BLESS THE CHILD
Reviewed February 18th, 2001 by Len D. Martin
Cast: Kim Basinger (Maggie O'Connor), Jimmy Smits (John Travis), Holliston Coleman (Cody), Rufus Sewell (Eric Stark), Angela Bettis (Jenna), Christina Ricci (Cherry), Michael Gaston (Bugatti), Lumi Cavazos (Sister Rosa), Dimitra Arliss (Dahnya), Eugene Lipinski (Stuart), Anne Betancourt (Maria), Ian Holm (Reverend Grissom), Helen Stenborg (Sister Joseph).

Director: Chuck Russell.

Story: Maggie O'Conner returns home late one evening from her work as a nurse, when who should be waiting for her but her sister Jenna with a newborn baby girl, Cody. Maggie begins to question Jenna as to who the father is, is she still on drugs, and what has she been doing all these years. Then, as mysteriously as she arrived she leaves without an explanation. For the next six years, Maggie raises Cody as her own, and it is during this time that Maggie finds out that Cody is autistic, and places her in a special school. In the meantime, there have been a number of children ritually murdered for no apparent reason. FBI Agent Travis, a specialist in occult-related murders, is called in by the Police to help with the investigation. One night, while working at the hospital, Maggie meets Cherry, who tells Maggie she knows where her sister is. Before Maggie can question her, Cherry disappears. Later, Jenna shows up with her new husband, Eric Stark, a mysterious cult leader, and both of them demand that Maggie give Cody to them because they believe she has special powers. When this fails, they kidnap Cody, and when Maggie goes to the Police, the connection between the murdered children and Cody's kidnapping becomes apparent. What is the connection? What power does Cody possess that may save mankind…or destroy it?

Audio: Presented in English 5.1 Surround and English and French Dolby Surround; English Subtitles for the Hearing-impaired.

Video: Presented in 2.35:1 Anamorphic Widescreen - Enhanced for 16x9 Televisions.

Extras: Commentary by Director Chuck Russell and Visual Effects Supervisor Joel Hynek; Exclusive cast and crew interviews; Original TV spots; Theatrical Trailer.

Comments: No problem with Audio or Video. An excellent supernatural thriller. As usual this is a Paramount release with very little in the way of extras. When is Paramount going to join the other studios and start producing DVDs with lots of extras?
Please help support our site by buying this DVD title through this link. Thank you kindly.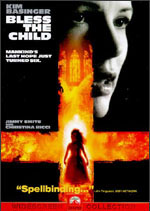 Purchase This DVD
Story / Content



Audio



Video



Extras