BLOW
Reviewed September 16th, 2001 by Dan Jones
"When most people think are there fathers they think of long drives and birthday presents and Sunday barbeques, when I think of my dad I think of school children smoking crack."

Directed by Ted Demme, Blow is based on the true story of George Jung, a man who was responsible for smuggling 85% of the Nation's cocaine into the country in the 1970s with the help of Pablo Escobar. Blow tells the life story of Jung, portrayed by Johnny Depp, beginning with his unstable childhood, his move to California, and from there the ups and downs of his massive drug smuggling operations (from marijuana to cocaine), to his ultimate incarceration.

An underlying theme in Blow is George's poor childhood and parental guidance and how this influenced his life. One of the most prominent scenes in the movie comes early on when George's father loses his job and is having trouble providing for the family. His father says, "When you're up it's never as good as it seems and when you're down you never think you're going to be up again... money isn't real George, it doesn't matter, it just seems like it does." George replies by saying that he never wants to be poor when he is older. As time goes on, we see how he accomplishes that.

Overall Blow is very well done. Depp puts in a fantastic acting job (as if he ever doesn't) as Jung, along with great acting from a very strong supporting cast behind him, most notably Ray Liotta as Jung's father, Penélope Cruz as Jung's wife, and Paul Reubens (Pee-wee Herman) as Jung's first supplier.

Blow marks the third release with the Inifilm line of DVDs from New Line Home Entertainment, going beyond the New Line Platinum Editions. Does this mean anything? Well, one thing is clear; they did a very good job with this DVD. Blow is possibly the best single disc DVDs, in terms of features and quality, that I own.

The 2.35:1 anamorphic widescreen transfer in Blow is great. The picture is sharp and clear, and generally just looks all around great. We do not get the option of a pan-and-scam version, which is nice in this writer's opinion, for that it gives more room for extras without providing people with a version of the movie they will never watch (hopefully).

As for audio, we are treated to a strong 5.1 Dolby Digital track or standard stereo surround. The audio sounds great overall. This is no action flick so your speakers will not be pressured too much, but overall the 5.1 mix does a nice job of spreading the sound. What more can you ask for?

Extras? Ah yes... here is where this DVD really shines. Here's what we get: A George Jung interview by Ted Demme, two informative clips entitled "Lost Paradise: Cocaine's Impact on Columbia" and "Addition: Body and Soul," Fact Track, which is a trivia subtitle track that allows you to view additional features, a commentary track featuring Ted Demme and George Jung (impressive), additional deleted scenes (with commentary), character outtakes, Ted Demme's video production diary (behind the scenes basically), Nikke Costa's music video for "Push and Pull," the teaser and theatrical trailer, and cast and crew information. There are also a number of DVD-ROM features, most notably script-to-screen access to the film. Yes... lots of stuff. Although I would have liked the DVD to include TV-Spots (there were a few); but pickers can't be choosers, or something like that.

The interview with George Jung is definitely very impressive. This great extra (around 15 minutes) gives a lot of insight into who this man is; along with insight into the making of the film and what part he had in that. The deleted scenes are also great, better then most cut scenes in other movies.

The video production diary is also quite nice. It gives quick and dirty behind the scenes footage over the 63 days of shooting (focusing on a few of those days). Overall, it is a good watch, gives some insight into the movie, and is quite comical at times.

As for the Inifilm part, what you get is the entire movie, with certain scenes that link to additional features about that scene etc...Probably something you would use on a second or third watch, but cool nonetheless.

The character outtakes are interesting too. This supplement is one in which the characters in the film talking about George Jung (in a fictitious "we are the real people" sort of way). The quote at the top is from that. This is a great extra and is certainly worth a watch.

Overall, Blow on DVD is an excellent addition to any movie-buffs collection. It is also an exceptional use of the DVD media in terms of utilization of allotted space. This movie could easily have been released on dual discs without adding any more extras and would seem great by today's standards; all of this on one disc is just excellent. This one is highly recommended.
Please help support our site by buying this DVD title through this link. Thank you kindly.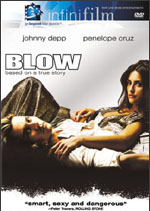 Purchase This DVD

Title Has Easter Eggs

Story / Content



Audio



Video



Extras