BLOW OUT
Reviewed February 4th, 2002 by David Nusair
Inspired by the Italian classic Blow-up, Blow Out is one of Brian DePalma's best films. It's also one of his most simple. Where most of his flicks feature complicated storylines with twists a-plenty, Blow Out features a relatively sparse plot with one central character.

John Travolta stars as that character, a sound effects guy who works for a cheesy b-movie studio. One night he's out gathering real-life sounds for his next project, when he hears a car careening off a bridge. He dives into the lake to try and save whomever he can, but winds up rescuing only one occupant of the car – a prostitute who shouldn't have been there. The man who was driving (and died) was a prominent senator – and future presidential candidate. The authorities thank Travolta for his brave efforts and encourage him to drop the subject. But armed with his sound recording of the accident, he decides to find out what really happened.

Blow Out is filled with quirky supporting actors and bravura camerawork – but those elements only serve to enhance DePalma's screenplay. Disarmingly simple, the film's structure initially seems easy enough to predict, with Travolta and Nancy Allen (as the hooker with a heart of gold) playing gumshoe trying to solve the case. But there's more to it than that, with multiple plot twists and a plethora of engagingly distracting side characters.

The heart of the film, though, is Travolta. Long before he was determined to play the very same character over and over, Travolta was an actor unafraid of playing flawed characters. Here, he's a guy with little ambition compelled into solving this mystery – to such a degree that he begins ignoring the other aspects of his life. As the heart-of-gold prostitute, Allen is just as good – initially refusing to get involved but eventually goaded into helping out.

Blow Out is a real treat for DePalma fans – it features his trademark sensational camera tricks and unexpected twists – and will surely win over non-DePalma fans.

Audio: Blow Out is presented with a 2.0 dolby surround track, and for the most part, it sounds good. The music never interferes with the dialogue, but when needed, it can be booming. Though a 5.1 remix would have been nice, this is just about as good as a movie from 1981 tends to sound.

Video: This anamorphic 2.35:1 transfer is very good, especially given the age of the film. A lot of this movie takes place in dark places, and the transfer remains free from artifacting during all these sequences. There's also a full-frame transfer included, but…so what?

Extras: A trailer. That's it. Some press notes, an introduction from DePalma... anything might have been nice. Oh well.

Conclusion: Blow Out is one of DePalma's best. Check it out.
Please help support our site by buying this DVD title through this link. Thank you kindly.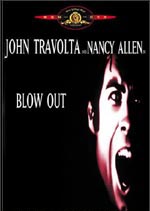 Purchase This DVD
Story / Content



Audio



Video



Extras