BOOGEYMEN
Reviewed October 18th, 2001 by Dan Jones
Boogeymen is interesting breed of DVD. It's not a full length film, rather it's essentially a greatest hits package of seventeen of film's most popular horror villains, from Freddy Krueger and Michael Myers to Chucky and Norman Bates in their most horrific and famous scenes from their particular films. This DVD serves as a great supplement to any horror buffs library, providing commentary and trivia throughout all the scenes, along with hours of extras. If you're wondering if your favorite "Boogeyman" is included, here's a quick (yea, right...) run down of the characters: Pinhead (Hellraiser), Freddy Krueger (A Nightmare on Elm Street), The Djinn (Wishmaster), Leatherface (The Texas Chainsaw Massacre), The Leprechaun (Leprechaun), Chucky (Child's Play 2), The Candyman (Candyman), Simon Cartwright (The Ugly), The Fisherman (I Know What You Did Last Summer), Camilla (The Guardian), Dr. Alan Feinstone (The Dentist), The Tall Man (Phantasm), Jason Voorhees (Jason Goes To Hell: The Final Friday), Michael Myers (Halloween), GhostFace (Scream), Blade (Puppet Master), and Jack Frost (Jack Frost 2). This should cover most fans of the horror genre's tastes.

The audio on Boogeymen is presented in Dolby Digital 2.0 and works quite well overall. This sound track is obviously not overpowering, and the inclusion of a Dolby Digital 5.1 track would have been nice, but considering that these are clips from a great variety of films, re-mastering a 5.1 mix would have been a considerable chore; the 2.0 track should satisfy most viewers.

The video on Boogeymen is presented in a manner such that the clip being viewed is shown in the aspect ratio it was originally presented. Video quality is of course dependant upon the quality of the film a particular clip is being grabbed from (Scream is going to look considerably better then, say, Psycho); therefore, the quality can vary considerably from clip to clip. All things considered though, the quality is fairly nice.

Extras wise, Boogeymen truly shines. We get full coverage commentary by Freddy Krueger himself, Robert Englund. Also included is a plethora of trivia via the FlixFacts feature, full length trailers from the films these Boogeymen were in (along with some seemingly out-of-place trailers), a Horror Trivia Games including "Name That Frame", Boogeymen Character Bios, and DVD-ROM features. All in all, there is a good deal of bonus material here that should keep you busy for hours.

Overall, Boogeymen does a admirable job of doing what it advertises. It gives you more then just short cut scenes from famous horror flicks (scenes actually have substance and length), gives some good commentary, and a nice deal of extras, oh... and lots of gore. If you love your horror movies, definitely check this one out.
Please help support our site by buying this DVD title through this link. Thank you kindly.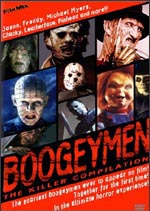 Purchase This DVD
Story / Content



Audio



Video



Extras