BOOGIE NIGHTS (2 DISC SET)
Reviewed September 4th, 2000 by John Randall
Ok, this movie is not for everyone. Some people think making a three-hour movie about the porn industry in the late 70's and early 80's is disgusting. True, this is hardcore material we're talking about here, but this movie portrays it in a much more respectful manor than an X-rated movie for sure.

Overall this is a great movie, with some wild comedy and a great cast of characters and actors. The cast includes Mark Wahlberg, Burt Reynolds, Julianne Moore, William H. Macy, Heather Graham and a host of others.

The movie is written and directed by P. T. Anderson who also wrote/directed Magnolia which starred many of the same actors.

The plot is about the rise and fall of a young porn king named Dirk Diggler – but don't let that fool you. There are many other issues that this movie takes a stab at like infidelity, family, drugs and more. This movie is just not all about sex.

The video is presented in 2.40:1 anamorphic widescreen and is actually better than the original release. The transfer is just almost perfect.

The audio is presented in English and French Dolby Digital 5.1 and sounds just as good as the original release. The music sequences sound real good and dialogue is crystal clear. Also included is a 2.0 DD mix.

This new New Line release is a 2 disc box set and is loaded with extras. Included is an audio commentary with director P. T. Anderson, another documentary with P. T. Anderson and some of the cash, 10 great deleted scenes, some outtake footage of John C. Reilly, a music video, colorbars (with a great little segment of outtakes -- this one is worth the price of the discs after you have seen the movie) and cast/crew biographies.

If you have never seen this movie, then take a chance and rent it. If you love it already, then this really is a must have set. However, if you own the original and don't care much about extras, then really what you already have will be just fine for you.
Please help support our site by buying this DVD title through this link. Thank you kindly.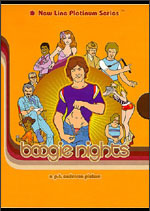 Purchase This DVD

Title Has Easter Eggs

Story / Content



Audio



Video



Extras