BOWLING FOR COLUMBINE
Reviewed October 13th, 2003 by Brian White
No matter which side of the debate you identify with, it is pretty tempting to assume that Bowling for Columbine is anti-gun before actually seeing the film. Of course you'd also predict that it would be hilarious, given Michael Moore's style. Well, anti-gun propaganda it is not. One wonders if the film started out that way, but Bowling for Columbine's thesis is a complicated exploration of the American psyche.

While the tragedy at Columbine is central to the film, much time is spent on militia sub-culture, the NRA, and general attitudes in America that stem from a bloody past and ethnic tension.

Moore could have forced the anti-gun stance that so many on the left hold dear, but he's better than that. If he had made a piece of anti-gun propaganda, the film would have been a failure. Instead, Moore discovers that gun violence in the United States is a complicated matter, not summed up easily by a specific issue.

Moore's style has been refined over his career. In Columbine, Moore's skills are clearly evolving, and his wit is sharp. He is often shown conducting interviews that are both ridiculous and unsettling. The perfect example is the chilling segment where he interviews James Nichols. Nichols goes out of his way to try to explain that he isn't crazy, appearing more and more of a kook the whole time.

Of course, as Moore's career evolves, he finally gets access to his subject matter, and familiar faces squirm. Moore has taken some flack for his Charleton Heston interview in the wake of the actor's admission that he has Alzheimer's. Certainly Heston comes across as somewhat feeble toward the end, but the whole exchange is really quite fascinating. A brief encounter with Dick Clark also raises an eyebrow.

As amusing as some of Moore's interviews turn out, there is ample tragedy captured on the film. It is difficult to hear the story of the Flint MI principal relay how a six year old shot a classmate. Equally difficult is the montage of security camera footage from Columbine.

While mostly successful, Bowling for Columbine still shows that Moore hasn't entirely mastered his craft. He still comes across as heavy-handed on a couple of occasions. Holding up the picture of the child gun victim for Heston seems a little over the top, as does his adventure with the two Columbine victims. He seems to get more out of that trip to Kmart than they do. While these scenes are certainly intended to be important, the execution is a little cheesy.

Despite any minor issues, Bowling for Columbine is a very good film. It is entertaining and informative. Certainly there are those who will say it's a batch of lies, but they should just go and make their own film to prove Moore wrong.

The quality of the video footage on the DVD varies with the source material, from archival footage, to television footage to the interview segments filmed for this movie. Even the filmed interview stuff seems to vary slightly as though a variety of film stock was used. The transfer on the DVD is 1.85:1, anamorphic.

A 5.1 Dolby Digital mix is included on the DVD. As one might expect, the mix is mostly toward the front, and toward the center for most of the material. Music fills out into the front speakers, and certain sound effects can be heard in the surround speakers. For the most part, the surround mix fills out the sound in the film.

This 2-DVD set boasts plenty of extras so that you can get your Michael Moore fix. On disc one is an introduction to the DVD by Moore, as well as a commentary track by some members of the production team that do not always have a voice: interns and receptionists. This is amusing and a unique take on a commentary track. Certainly this point of view provides plenty of new information about the making of this film, and films in general. Disc 2 contains material about awards that the film received. There is a bit where Moore discusses his OSCAR acceptance speech, and a number of interviews with Moore, and some lecture material are included. DVD-ROM material (as well as weblinks for those without the ability to view the material) containing Teachers' aids and action plans are also available.
Please help support our site by buying this DVD title through this link. Thank you kindly.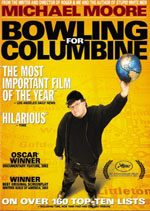 Purchase This DVD

Purchase Promo Poster

Story / Content



Audio



Video



Extras