BRING IT ON
Reviewed March 25th, 2001 by Len D. Martin
Cast: Kirsten Dunst (Torrance Shipman), Eliza Dushku (Missy Pantone), Jesse Bradford (Cliff Pantone), Gabrielle Union (Isis), Clare Kramer (Courtney Egbert), Nicole Bilderback (Whitney Dow), Tsianina Joelson (Darcy), Rini Bell (Kasey), Nathan West (Jan), Huntley Ritter (Les), Shamari Fears (Lava), Natina Reed (Jenelope), Brandi Williams (LaFred), Lindsay Sloane (Big Red), Richard Hillman (Aaron).

Director: Peyton Reed

Story: The Rancho Carne High School cheerleading squad has won the National Cheerleading Trophy for the past five years. Now, with Torrance Shipman as their new Captain, they are out to try to win for a sixth time. But Torrance learns through Missy that all their routines have been stolen from the Glovers, a rival cheerleading team in Los Angeles. If Rancho Carne wants to win the trophy again, Torrance must come up with some new routines for the squad, before they compete in the National Cheerleading Championships in Daytona, Florida.

Audio: Presented in English Dolby Digital 5.1, Dolby Digital Surround, and DTS 5.1 Surround.

Video: Presented in Anamorphic Widescreen 1.85:1 - Enhanced for 16x9 televisions.

Extras: Spotlight On Location: The Making Of "Bring It On"; Feature Commentary with Director Peyton Reed; Deleted Scenes; Extended Scenes; Never-Before-Seen Home Movies of the Car Wash Scene; Wardrobe and Makeup Tests; "Did You Know That?" Universal's Animated Anecdotes - Watch the movie and learn about interesting and sometimes unbelievable facts; Blaque "As If" Music Video; DVD-ROM Features Including Screen Saver And Cheer Quiz; Theatrical Trailer and More!.

Comments: When I started to watch this movie I thought it was going to be another teenager film with nudity and trying to get the girl in bed. But was I surprised! No nudity. Hardly any vulgar language. Just a good fun film about a cheerleading team trying to make first place in the Nationals. Kirsten Dunst is excellent as Torrance as is the rest of the cast. The brochure that comes with the DVD states that for each cheerleading squad in the movie, they were composed of 20 individuals - 8 actors and 12 actual cheerleaders to lend authenticity to the film.

Hidden Extra: From the disc's main menu, go to the 'Languages' submenu. Underneath Kirsten Dunst's picture on that screen you can now see a cheerleading megaphone. Press the 'Right' arrow key on your remote control and you will highlight the megaphone. If you press 'Enter' now, you will get to see a short clip, showing director Peyton Reed as he is congratulating you for finding this hidden extra.
Please help support our site by buying this DVD title through this link. Thank you kindly.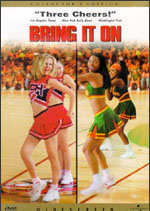 Purchase This DVD
Story / Content



Audio



Video



Extras