BRINGING OUT THE DEAD
Reviewed July 24th, 2000 by John Randall
For starters, this movie just isn't for everyone. It might bore you (if you don't like strange movies) – it might scare you – it might unnerve you. Most of all, it is quite unforgettable.

Director Martin Scorsese brings this novel to the big screen.

Frank Pierce (Nicolas Cage) is a 5-year veteran on the streets of Manhattan working as a paramedic. The only problem is the job has severely altered his perception of reality and alcoholism, hallucinations and insomnia have set it only making it worse.

The whole movie takes place in 3 days where we see Frank get any worse. In his mind the spirits of those he could not save (especially one) haunt him even when he is awake. We also get to see him team up with some really crazy partners like Larry (John Goodman), Marcus (Ving Rhames) and Tom (Tom Sizemore). We see crazy drinking, the wrecking of an ambulance and even physical abuse of a patient. Each of the three partners has at least one scene where they still the show. Watch for Ving's performance at the nightclub – it's a riot.

This movie has some real intense moments mixed with a great soundtrack (REM among others).

Along the movie's progression, you see a Mary Burke (Patricia Arquette) who is the daughter of a patient Frank tries to save, who turns into a love interest.

One of the big surprises was seeing singer Marc Anthony portray Noel, a homeless man who has many mental problems.

The video is presented 2.35:1 widescreen and is 16x9 enhanced. The transfer is pretty good overall. Black and color levels seem dead on.

The audio is presented in Dolby Digital 5.1 and is also pretty good. Dialogue and music seem very clear even though the use of the surrounds and LFE isn't all that strong.

The extras on the disc include two theatrical trailers and a nifty little segment with cast interviews.

The movie overall might just teach you a bit about human nature. I'm surprised more people didn't see this movie. It's definitely worth a rental at the very least.
Please help support our site by buying this DVD title through this link. Thank you kindly.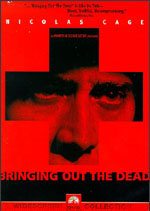 Purchase This DVD
Story / Content



Audio



Video



Extras