BRUCE ALMIGHTY
Reviewed January 5th, 2004 by Brian White
Bruce Almighty strikes this viewer as being suspiciously similar to the Well Made Plays of the nineteenth century. These plays were formulistic, well acted, well written, not terribly challenging, and not striving to improve their form. The audience enjoyed the show, laughed, cried, got up, and went to dinner maintaining nothing. Bruce Almighty is certainly a well put-together film. The movie, though there are several great ingredients, never really rises to the occasion. It is less than the sum of its parts. In the end, it's a little too safe.

Certainly the script is very clever. Carrey plays a man that is obsessed about his own failings, and cannot recognize the great things in his life (re: living with Jennifer Aniston). He thinks it's all God's fault. God (Morgan Freeman) objects to this and allows Bruce to see if he can do better. Cue Carrey's craziness. Yes, there's a lot here. Jim Carrey is, as always, very entertaining in this flick. You'll find yourself laughing at much of his schtick. God knows what would have been the case if a lesser comic had taken this on. The scope of the subject matter requires similar scope from the lead. Carrey does his best and succeeds in bringing this material to great heights.

However great Carrey is, the safeness of the Hollywood formula kicks in, and sentimentality prevails. We all get to learn a good lesson about ourselves, be a little bit happier about what we have, and go somewhere to eat after the movie.

There is a lot of flash to this movie. Director Tom Shadyac does a fine job of entertaining the eye for the time you watch this film. There are plenty of special effects, which come off mostly well. Also, the overall look of the film is very good. Perhaps even a bit too good and back-lot-ish, which brings the well-made plays to mind. It is all very slick and good looking.

A mention must be made about Morgan Freeman. He's always great, and this movie is no exception. Who better to play God, really?

Video-wise, this movie is everything that you'd expect. A very nice, colorful and flashy movie deserves a similarly beautiful and flashy transfer. It is 1.85:1 anamorphic, with a full-screen version of the film available on a separately sold DVD. There is the slightest hint of grain, but that is probably the result of Shadyac's film choice.

The DTS 5.1 mix (Dolby Digital is also included, obviously), is very active at times. This is a comedy with plenty of special effects, and as such there are plenty of chances for surround sound effects. Music is used quite effectively as well. This is a great sounding disc where it has to be.

For extras, there are a number of deleted scenes, and a screen-specific commentary by Shadyac. This is a pretty interesting commentary track, as he has plenty of experience with Carrey, and is full of information about the filmmaking on the screen, the themes of the film, and some behind-the-scenes stuff. Also, there's a bit called "The Process of Jim" where you get some insight into how Carrey is always "riffing" with scenes, and how each is different. A few scenes from the film are included, as well as some deleted stuff to show how Carrey changes things up from scene to scene. The Outtakes are also quite good.
Please help support our site by buying this DVD title through this link. Thank you kindly.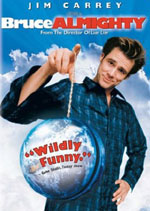 Purchase This DVD

Purchase Promo Poster

Story / Content



Audio



Video



Extras