CARRIE: SE
Reviewed January 3rd, 2002 by David Nusair
There's more to Carrie than pig's blood.

In one of the most famous sequences in movie history, a gawky and shy high school student is on the receiving end of an incredibly cruel prank – a bucket of pig's blood is dropped on her head, just as she's accepting an award. But if that's all you know about Carrie, you're definitely in for a treat.

Sissy Spacek stars as Carrie White, a socially awkward young girl whose mother is a raving religious lunatic. Unpopular at school, she's often teased by her fellow classmates and even little kids in her neighborhood ("creepy Carrie! Creepy Carrie!") The movie opens with a sequence that seems as though it'd be more at home in a soft-core porn flick: Carrie's gym class has just finished a game of volleyball (a game which, not surprisingly, Carrie manages to foul up) and the girls retreat to the showers. In one isolated corner, Carrie is showering alone. Serene music plays while Carrie washes herself in slow motion, when blood appears. Turns out Carrie's never had her period before and is confused and frightened by this unexpected gushing of blood. As she lunges forward in search of help from her fellow classmates, the scene turns ugly – with the girls chanting "plug it up" and tossing feminine products at her. And that's just in the first five minutes!

The remainder of the story essentially follows Carrie as she struggles to come to grips with her burgeoning psychic abilities, along with her preparations for the senior prom. It's a simple tale, told briskly and effectively by director Brian DePalma. Of course, it wouldn't be a DePalma film without some extraordinary camera tricks – the bulk of which appear during the scenes set at the prom. And while he may go a little overboard with the split-screen effects, this is still an incredibly compelling and effective sequence. DePalma is a master of suspense (no offense, Hitch), and he's at the top of his game here.

Acting-wise, Carrie is almost perfectly cast. Sissy Spacek's interpretation of this wounded spirit is very impressive, given the sorts of characters she'd played before (and since). Likewise, the rest of the cast is equally good (though none are terribly convincing as teenagers; John Travolta looks as though he's in his mid-20s!)

Carrie is certainly a winner all around, with the virtuoso directing by DePalma and a star-making performance by Spacek. Check it out.

Audio: Carrie is accompanied by a DD 5.1 soundtrack and on the whole, it's quite impressive. Not surprisingly, the rear channels mostly stay dormant (though there is quite a bit of activity during that final prom sequence), with the front end of the speakers doing most of the work. This is a very nice sounding track.

Video: This anamorphically enhanced 1.85:1 transfer is good, but not great. The movie was shot by DePalma with his '70s filters (it seems he never used them in any other decade) and the transfer reflects the soft look he was aiming for. However, there are a few noticable film-related problems, mostly in the guise of scratches and the like.

Extras: First up is a 40-minute documentary called "Acting Carrie." As you may have guessed, the central focus of this featurette remains on the actors and how they dealt with their respective characters (and what it was like working with Brian DePalma). This is generally an interesting doc, though sometimes it does feel a little too static – the majority consists of someone talking over clips of the movie. Some behind-the-scenes footage might have been nice, though we do get some pictures from the set. There aren't many shocking revelations here, but it was interesting to discover the lengths to which DePalma would go to get an appropriate performance (for one scene, he insisted that an actress actually slap another actress – and they wound up trying it over 30 times!) This is followed by another doc which also happens to be 40 minutes. Detailing the behind-the-scenes work that went into the movie (and pre-production), this one follows the format of the previous featurette – consisting mostly of interviews, with set photos shown occasionally. We're even treated to a description of a deleted opening scene, complete with production stills. It's too bad that the scene itself couldn't have been recovered, though. Next up is a six-minute featurette on the short-lived Carrie musical. The producers were unable to get permission to use any material from that production, so this basically consists of six-minutes of the writer and one of the actors talking about the musical. This is certainly interesting, though it definitely would have helped if we had been able to hear one of the songs or even see a picture of the set. Next up is six-minutes of production photos and publicity stills set to score from the movie. Nothing fascinating here, but if you're a fan of pictures, you'll certainly get your fill. The next supplement is a three-part look at Steven King and how he came to write the novel. This is all written only, but is very interesting as it provides information on what was cut from the novel for inclusion into the movie and King's source for the various characters that populate Carrie. Finally, there's an anamorphic trailer.

Conclusion: Carrie is one of the few adaptations of King that actually works. And this is a package that'll easily appeal to both fans and newbies alike.
Please help support our site by buying this DVD title through this link. Thank you kindly.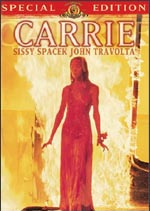 Purchase This DVD
Story / Content



Audio



Video



Extras