CAST AWAY
Reviewed May 27th, 2001 by John Randall
I had the honor (or is that horror?) of seeing this film at a brand new state of the art movie theatre and came out scratching my head in some regards. Though I do love Tom Hanks, I cannot quite understand his draw to this project. He really does do a fine job in the movie - but I have problems with the movie itself. As you might have heard, to many it was just one long Fed Ex commercial. Also some of the more "moving" shots just were too long for the average movie-goer. We get the point the flashlight is fading out because of the battery dieing, but does it have to take 5 minutes?

The movie is quite long running just under two and a half hours, and does a pretty good job keeping you interested in what is going on. However, I could have sworn I saw a few people falling asleep during the middle.

The story is basically about Chuck Noland (Hanks), a Fed Ex employee that survives a plane crash over the ocean. Chuck must pull himself together (and try to stay sane) so he can survive. The story is also about those things he had to leave behind. The story is also about hope.

The movie really does have some fine acting by Hanks. Robert Zemeckis has always been a hell of a director as well. Also in the movie is Helen Hunt who plays Hanks' love interest that he leaves behind.

The video on the DVD is presented in 1.85:1 anamorphic widescreen and is breathtaking!!! It actually is one of the best transfers I've ever seen. Enough said.

The audio is presented in English 5.1 (and English/French 2.0) and DTS 6.1! This soundtrack rocks!

As far as extras, they have included an audio commentary, four featurettes, an interview with Tom Hanks, trailers and much more.

Fans of the movie will not be disappointed at all with this disc. If you missed it, you might want to try and rent it before going out to buy it. The movie itself may not be awesome, but this 2 disc set is!
Please help support our site by buying this DVD title through this link. Thank you kindly.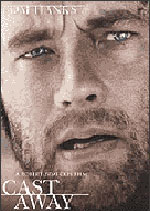 Purchase This DVD

Title Has Easter Eggs

Story / Content



Audio



Video



Extras