CHICAGO
Reviewed August 27th, 2003 by Brian White
Ok, so why is everybody singing?

Hollywood musicals just aren't as popular as they once were. Occasionally there are exceptions, but there was a time that nearly every Broadway musical was turned into a movie and did well. Those days are over… sort of. Musicals and Movies are apples and oranges. The suspension of disbelief that is required to enjoy a musical is absent in the average movie viewer. The successful adaptation of a stage musical into a good movie is usually the result of a clever idea.

So how does Chicago's director find the balance? Robert Marshall handles the differences between stage and screen quite brilliantly, and logically. At its heart, Chicago is a story about a woman on trial for murder. Much of this movie is a stylized, but quite literal look at Chicago in the twenties. Sets and costumes are accurate. However, the stage show upon which the film is based is a modern musical, centered around dance numbers. The filmmakers use protagonist Roxy Hart (Renée Zellweger)'s view of life to tie these two most disparate elements. Roxy wants more than anything else to perform in the Jazz clubs. She finds herself in her particular predicament because she wants so desperately to perform. As a result, at any moment the film will fly off into one of the production numbers from the stage musical. In this way, the film holds onto the narrative, and maintains the feeling of the stage show.

Chicago boasts several entertaining production numbers. Not having seen the stage show, I cannot comment on their similarity to those in the play, but it would not surprise me if production numbers on screen are very similar to those on stage. Marshall is also the choreographer of the film. One can only assume that we are getting the best of the best, performance-wise.

So it might have been easier to fill the screen with actors who have performed in the show for years, but how many tickets would they sell to the movie then? Instead, the filmmakers have filled the screen with big-name actors. This can be risky, but here it's a glorious success. Catherine Zeta-Jones is absolutely amazing as Velma. She was born to perform, and she brings plenty of confidence to her role. Richard Gere is quite entertaining in the role of Billy. He is devious when he has to be, and hilarious when he has to be. Who knew he could sing and dance? Renée Zellweger really shows her chops in the role of Roxy. She dances, she sings, she acts! Where did all that Bridget Jones weight go? Queen Latifa turns in a great performance as Mama Morton.

The video on this DVD is quite good. Presented in 1.85:1 anamorphic, the colors are vibrant, and the detail is very good. As a result of the film stock used, there is a slight graininess throughout, but it is not distracting, and maintains a very film-like look. Contrast is good, which is appropriate, as so much of the production numbers take place in front of black backdrops. A full frame version of the movie is sold on a separate DVD.

The audio is very good. This is a musical, and the music must shine. The DTS 5.1 mix is quite impressive, and there is plenty of detail to the sound mix throughout the front speakers. Effects are quite dynamic throughout the mix where appropriate. This mix does not hit you over the head, but it serves Chicago very well. A Dolby Digital 5.1 version of the mix is also included.

As for extras, I would not be surprised if a special 2-disc edition is on the way. On this disc we have only a deleted scene, a promotional "Behind the Scenes" thing, and a director's and screen-writer's commentary. The filmmakers provide a different kind of commentary in that they discuss the themes, and their efforts to adapt them to the screen. They are quite talkative, and interesting. Very recommended.
Please help support our site by buying this DVD title through this link. Thank you kindly.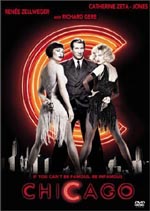 Purchase This DVD

Purchase Promo Poster

Story / Content



Audio



Video



Extras