CHRISTMAS IN SOUTH PARK
Reviewed January 14th, 2001 by Brian White
Christmas in South Park is a great disc for any fan of Comedy Central's South Park. Unlike the episodic releases, which have been following the series chronologically, this disc features two South Park Christmas specials. The series' first Christmas special, which isn't included here, is already available on Volume 3. Fear not though, the stinky Christmas fellow, Mr. Hankey, scats his way onto this disc. There is also an excellent extra on this disc that every fan will love.

The first episode on the disc is last year's fantastic Mr. Hankey's Christmas Classics. After Bigger, Longer and Uncut was completed, South Park creators Matt Stone and Trey Parker rejoined with Marc Shaiman, the composer who orchestrated and composed some music for the film. They wrote some funny and surprisingly strong Christmas songs. The real standout is Christmastime in Hell. And who could forget Santa and Jesus', putting their combat aside, and performing lounge holiday songs? All the blasphemy's here to be enjoyed.

The second episode on the disc is the holiday special from the second season: Merry Christmas Charlie Manson. While not up to the quality of the first Christmas special, and Mr. Hankey's Christmas Classics, this episode has its moments. Seeing the whole Cartman family is quite amusing. And now that I think about it, Mr. Hankey's in this one too, as the Grinchy-Poo.

The third episode has absolutely nothing to do with the holidays. It is about rampant consumerism, so I suppose it fits. It is Chinpokomon, the triumphant return to form after the weak episodes that were produced during the making of the film. This is (not arguably) the best episode that Parker and Stone have put together. Here's another reason why it belongs on the Christmas disc: the kids talk about Jesus a bit…. Especially his tap dancing.

Finally, a great extra is included: a British documentary about the show. There's a funny interview with Parker, Stone, and everyone behind the scenes. It's quite interesting to see all the high-tech gear that goes into making such a simple looking show. Also, if only briefly, you hear Parker's un-enhanced voice portraying Cartman.

The video on the disc is in keeping with the other releases. The colors pop, and what little detail there is looks just swell in 4:3 aspect ratio. The audio is stereo, and acceptable. There is finally some sound on the menu screen: an annoyingly short loop of the opening theme. The episodes are selectable from a menu, but they are not tracked, my on-going gripe with these discs. They could at least put chapter stops on the commercial breaks.
Please help support our site by buying this DVD title through this link. Thank you kindly.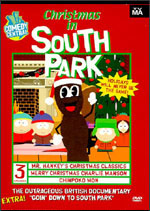 Purchase This DVD
Story / Content



Audio



Video



Extras