CITIZEN KANE
Reviewed September 19th, 2001 by Dan Jones
The film classic Citizen Kane begins with the dying word of media tycoon Charles Foster Kane: "Rosebud." Upon preparing a newsreel in memoriam of Kane, a reporter feels that there is still a missing piece to his legacy, and that his final word has something to do with this. So, various associates of Kane are then interviewed to try to find some meaning to the word. Kane's mentor, business partner, ex-wife, butler, and best friend are all asked to give some help to the query. One, by one they give great detail into the man that was Kane, but they never know anything about Rosebud.

The story is told mostly through flashbacks that span the life of Kane, and they occasionally overlap as the reporter goes on to the next interview. The common ingredient to each story is that Kane eventually pushed everyone away from him that ever cared about him. In his youth he was idealistic and adventurous, but we see him become an old curmudgeon before our eyes. The story is partly based on the life of William Randolph Hearst, who himself was a media tycoon, and incidentally didn't care for the Citizen Kane version of his life.

Warner has finally released this wonderful classic on DVD in its originial 1.37:1 aspect ratio and it has never looked this good! The soundtract is in mono, however it sounds pretty good.

Extras include two audio commentaries with Peter Bogdanovich and one with Roger Ebert. Also included is the wonderful documentary "The Battle Over Citizen Kane" which runs just under two hours, a short featurette on the film's premiere, seven still galleries, a trailer, production notes, a cast & crew list and more.

Warner sure has done a great job with this two-disc release. Highly recommended!
Please help support our site by buying this DVD title through this link. Thank you kindly.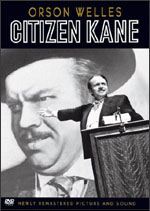 Purchase This DVD

Title Has Easter Eggs

Story / Content



Audio



Video



Extras