CLEAR AND PRESENT DANGER (SPECIAL EDITION)
Reviewed May 11th, 2003 by Dan Jones
"These drug cartels represent a clear and present danger to the security of the United States."

Clear and Present Danger, based on the book of the same name, marks the return of Tom Clancy's character, Jack Ryan (for the third go round). Riding on the huge success of The Hunt for Red October, and the relative success of Patriot Games, Clear and Present Danger brings back our favorite CIA agent Jack Ryan, now played by Harrison Ford for those that missed Patriot Games. Audiences once again flocked, with the film grossing over $200 million worldwide.

Clear and Present Danger has quite a convoluted plot, filled with a good deal of backstabbing and ulterior motives. Essentially, Jack Ryan is appointed to acting CIA Deputy Director of Intelligence, after Admiral James Greer (played by James Earl Jones) becomes deathly ill. As his first duty, he is to investigate the death of a friend of the President, whom had ties to the Columbian drug cartel. On top of this, without Ryan knowing, the CIA has sent out a covert military unit lead by John Clark (William Dafoe) to target these Columbian drug lords. Furthermore, Ryan sees that he could be used as the scapegoat if word leaks that the military has been dispatched to Columbia to fight a drug war. Ryan now must find the truth amongst those who are trying to cover it up, specifically the same people he is working for, and those above him, all the way up to the President of the United States.

Clear and Present Danger is a solid film from start to stop; while not as powerful as Hunt for Red October, this is another solid Tom Clancy adaptation. Much of the film focuses on Government corruption; almost paralleling the wrongs of the cartels (do the ends justify the means essentially). The story is twisted enough as to not become overly predictable, while the characters are deep enough to be interesting throughout. On top of that is solid acting, as well as impressive cinematography.

The video presentation here, in 2.35:1 anamorphic widescreen, is a huge improvement over the previous non-anamorphic release. As compared to the previous films (not Sum of all Fears) in the Jack Ryan series, this transfer seems the best. We have increased detail, as well as greater robustness in darks and blacks. Colors look accurate enough, and shadow detail is quite strong. I noticed few source problems, no compression problems nor much in the way of edge enhancement. A very nice transfer indeed.

Much like the video, the audio here represents the best of the first three in the Jack Ryan series. Supplied with 5.1 mixes in Dolby Digital and DTS, these tracks sound quite good. We have some nice discrete surround use, at times punishing low-end, clear and crisp dialogue, and fairly good imaging. While this track is not as active as some of the more recent films, it does a very good job. There are slight differences between the Dolby and DTS tracks, with the nod going to the DTS track for slightly improved clarity and detail.

Again, we have an underwhelming amount of extras on this Special Edition. Even less then can be found on The Hunt for Red October SE.

"Behind the Danger - New Cast & Crew Interviews" comes in at about 25 minutes in length and provides us with a good portion of interview footage with the cast and crew, as well as some behind the scenes looks, from animated storyboards to special effects.

Besides that, we have the film's theatrical trailer, presented in non-anamorphic widescreen.

Clear and Present Danger is a solid follow-up to The Hunt for Red October and Patriot Games. While this DVD presentation is again sorely lacking in extras, it is much better then the initial non-anamorphic widescreen release of the past if for nothing more then its exponentially better video presentation and solid 5.1 mixes. For any fan of the film, or fan of Clancy or Ford for that matter, this is a definite purchase. Recommended.
Please help support our site by buying this DVD title through this link. Thank you kindly.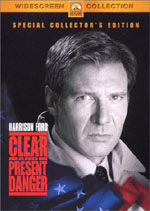 Purchase This DVD
Story / Content



Audio



Video



Extras