CLERKS: UNCENSORED
Reviewed June 23rd, 2001 by David Nusair
When ABC unceremoniously dumped Clerks: The Animated Series after only two airings, there was little hope that the other four prepared episodes would ever see the light of day. Until Miramax came to the rescue, that is.

Spread over two discs, Clerks: Uncensored presents all six episodes along with a wealth of extras. The actual content of the individual shows may be a little spotty - veering from hilarious to lame - but the discs are nothing to cough at.

The plot of the episodes is essentially what you might expect - semi-absurd happenings in and around the two stores our heroes (Randall and Dante) work in. One episode finds Dante on trial (complete with Judge Reinhold and an jury of basketball players) while another follows their attempt to quash local rich guy Leonardo Leonardo's devious plan to run the clerks out of business with a supermarket. And of course, Jay and Silent Bob figure heavily into all six episodes.

Audio: Clerks: Uncensored is presented in 2-channel Dolby Surround and it's about what you'd expect. There aren't many booming highs nor sibilant lows, but for a TV show, it's just fine. All the dialogue is crisp and clear, and ambient noise is easy enough to make out.

Video: All six episodes are presented full-screen and they look fantastic. This is about as good a transfer you're likely to see outside a Pixar production.

Extras: Ah, now here's where it really gets good. Firstly, Kevin Smith and Jason Mewes (Silent Bob and Jay, respectively) have filmed entirely new live-action introductions for each episode. These raunchy clips filmed at their "phat palatial estate" are likely what got the disc its R rating. Next, every episode is accompanied by commentary featuring Smith, Mewes, Brian O'Halloran (Dante), Jeff Anderson (Randall), producers Scott Mosier and David Mandel, and supervising director Chris Bailey. And if you're at all familiar with View Askew commentary tracks, it should come as no surprise that it's extremely informative and consistently hilarious. A lot of ABC-bashing occurs during the commentary and various other behind-the-scenes tidbits are divulged (such as the transformation from drug dealers into mirth makers for Jay and Silent Bob because the folks at ABC apparently didn't realize that they sold drugs. Well, duh). Each episode also comes with the multi-angle feature, allowing you to watch the entire thing through storyboards. Now, this generally isn't that exciting, but there are a few risque jokes that didn't make it into the final cut buried in the storyboards (such as one truly tasteless - and funny - bit about a children's burn ward). Moving away from the episodes themselves, you'll find a lot more to look at. Of course, there are the usual ads and previews - including one that aired during the Superbowl, touting a to-be-determined air date, but there's also a lot of behind-the-scenes stuff. There's a short featurette detailing how the animators came up with the look for each character (the Jay caricature, particularly, took them quite a while to get just the right appearance). There's also a short (3 and a half minute) featurette called "The Clerks Style" explaining how the animators went from a movie to a cartoon, and how they decided which style of animation to use. There are even some trailers on this disc, for Clerks (the movie), Chasing Amy, Princess Mononoke, and A Hard Day's Night. Finally (as if that wasn't enough), there are some features that those of you with a DVD-ROM can utilize - character profiles, a link to the Clerks website, and (this is neat) the ability to watch each episode while reading the script and viewing storyboards. Whew.

Conclusion: This is a must-have for any Kevin Smith fan (and if you're not a fan...you should be). With plenty of guest stars (such as Alec Baldwin and Gwyneth Paltrow), Clerks: Uncensored is sure to appeal to Smith aficionados and casual viewers alike. Wouldn't it be nice if all cult TV shows got this kind of a treatment?
Please help support our site by buying this DVD title through this link. Thank you kindly.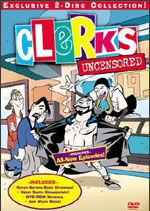 Purchase This DVD
Story / Content



Audio



Video



Extras