CLIFFHANGER (SE)
Reviewed July 24th, 2000 by Chuck Arrington
300 million dollars is an awful lot of money! Far too much money to pass up if you're Eric Qualen, terrorist, hijacker extraordinaire! The plan is simple, hijack a federal transport in mid-air, transfer the funds via cable from one plane to another, kill all witnesses & fly away rich & free! The plan works rather well until a fly shows up in their ointment, the money is spread over an incredibly dangerous mountain range. Unable to collect the funds on their own, Qualen's gang enlists the services of Rocky Mountain Rescue! Enter our heroes, Stallone, Rooker & Turner. Fully unaware that the distress call they've received is bogus; they head out to help the "stranded" climbers. With spills, chills, comedy & suspense, action is on tap for easily one of Stallone's best efforts!

The Audio is a remastered 5.1 Digital platform that really delivers a decent whollop just at the right moment. The score is fairly intense & offers a great deal of atmosphere. The surrounds are put to fairly good use & the sub-when present is very nicely employed! Additionally, the center is clean with no signs of the 5 channels fighting for supremacy.

The video is not as clean as I would have expected given its SE treatment. That's not at all to say that the image isn't beautiful, it is. There are just a few too many flecks & scratches in the print for my tastes. Is the movie marred by the transfer glitches…no but, for the techie, these are mistakes that have to be noted in any review. In any event, I'm just glad to have it in all its anamorphic glory!

The extras included on this SE are outstanding to say the least! They are:


Deleted Scenes:

The trailer for the film showed Stallone making an incredible leap from a rope bridge to a rock face. That appears to be at least 2-300 feet away. Renny decided to cut the scene because it looked way too fake. Note to Mr. Harlin… Good Call! The way in which it's filmed makes Stallone, look as though he is being rocketed by an unseen force in what amounts to a "Herculean" leap across the canyon. Each deleted scene is given great treatment by Renny as he gives an intro to the scene & then provides the audio commentary to explain why it was edited.


Special Effects: How it was done

This is a really cool segment in which three special effects shots are broken down & explained. The shots in particular are: The opening sequence with Sarah's fall, the helicopter crash at the end of the film and lastly, the mountain sequences are dissected. Identifying both stuntmen & the actual actors doing the stunts. Some of this info is revisited in the technical commentary but it's nice to see it in action as well.


Storyboard comparisons

Renny intro's each storyboarded segment coupled with the actual filmed scene. As extras go, this is my least favorite segment. While the storyboards are interesting in seeing the director's vision VS. The finished product, they really don't hold too much interest for me. However, if Storyboards are your thing, then this is your segment.


Photo Galleries

Generally, all these are the same on every disc they appear on. Publicity stills shot for the film are reproduced here. In both B&W as well as color. They feature all of the main characters in various poses of strength or terror. If you're into looking at this kind of thing, then you should be really happy. I don't mind having them as part of the disc & certainty, more information is better than less but these generally don't do anything either way for me.


Theatrical Trailer

After looking at the trailer I am amazed I was interested in seeing the film in the first place! The trailer, while interesting really doesn't seem to catch you, as it should. At to that the overall poor quality of the trailer & I'm left rubbing my head & thinking hmmm? Don't get me wrong, I really like this movie & have been looking forward to its SE release; these are just the groanings of a spoiled DVD fan. When you can see titles that are older than this & the information they provide on their discs is in better shape, it just makes you go all quizzical that's all.


Making of featurette: Stallone on the edge

Filmed while on location for Judge Dread, Stallone, Harlin & the technical crew show in slight detail, setting up of scenes, special effects shots, & the enormous amount of time it took to pull this feature off. It's 30 minutes in length & does a great job summarizing the behind-the-scenes elements of Cliffhanger. The only drawback (very minor) is Stallone's awful attempts at humor! I think he could probably be funny if he just didn't try so hard to be funny. Bad…very bad!

Overall: I have to say that I am a fan of Stallone's & really enjoy the disc. If you are even remotely interested in the film, this is the copy to get. Aside from all the really anal techie nitpicking, this is a really well produced disc that belongs in your collection. Lithgow, Stallone, Rooker & company are all great in this one & it bears checking out. All in all…good film!
Please help support our site by buying this DVD title through this link. Thank you kindly.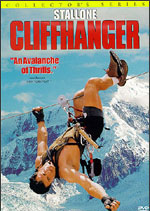 Purchase This DVD
Story / Content



Audio



Video



Extras