CLOCKERS
Reviewed April 8th, 2001 by Todd Terwilliger
Spike Lee has covered a vast array of different issues and topics in his films. With Clockers (1995), Lee takes a look at the life and times of a drug dealer on the streets.

Strike (Mekhi Philer) is a "clocker", a twenty-four hour drug dealer. When a rival clocker turns up dead, Strike becomes a prime suspect. Homicide detectives, Larry Mazilli (John Turturro) and Rocco Klein (Harvey Keitel) are on the case. Strike's law-abiding brother confesses to the murder, however Detective Klein is not convinced.

Lee is adept at conveying the allure of the clocker lifestyle. Strike and his cohorts hang out all day at the park. They chitchat about rap and other topics, lazing away the day. Using a system of spotters, they avoid any heat. The cops that come daily to roust the clockers with shakedowns find nothing.

In the end, the neighborhood has to appeal or police its own. When Strike begins consorting with a younger boy, the boy's mother confronts them in their park. "I know you," she tells them, "I know your mothers." On the other end, a neighborhood beat cop played by Keith David tries to turn Strike back to the straight and narrow but with frustrating results.

There are a bevy of fine performances to be had. In particular, Delroy Lindo is incredible as Rodney Little, the local drug kingpin. He presents himself as a father figure for the neighborhood kids, mixing in enough good advice like honey to coat and mask his true goals and sales pitch.

The film is presented in a 1.85:1 anamorphic widescreen transfer. The video is very clean. Lee intentionally used a harsh washed out look for the film and this is preserved perfectly on the print. The clockers' bright clothes, reds and blues, are vivid. There is some grain but this may be as much intentional as not.

The Dolby Digital 5.1 soundtrack is very nice but not overwhelming. There is little use of the surrounds and not much movement along the front either. However, Clockers is a movie of dynamic sound. Dialog is never muddy and the soundtrack, featuring some great music, sounds excellent.

The bonus materials are nothing to write home about. They feature only the ubiquitous production notes, cast bios, and a theatrical trailer. Clockers has enough meat on it to deserve more in depth features but it doesn't get it.

Clockers was not a huge success theatrically. However, the film is noteworthy as a sharp look at the life in the projects. Lee does a good job at withholding judgement. He doesn't tell us who is good or bad but lets the characters play out the moral drama on the screen. There is no romanticism on either side of the fence. Strike isn't immediately condemned for what he is, nor is he praised for it.

The DVD does a fine job of presenting the film itself. Although a few meatier extras would have been welcome, this is a fine edition of the film on disc.
Please help support our site by buying this DVD title through this link. Thank you kindly.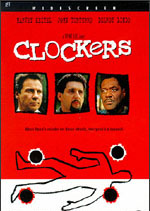 Purchase This DVD
Story / Content



Audio



Video



Extras