CLOSE ENCOUNTERS OF THE THIRD KIND
Reviewed May 27th, 2001 by John Randall
Every science fiction lover has most likely watched this film many times. It truly is a classic from the great Steve Spielberg. The movie has also been though some many revisions of the years that a lot of people are probably wondering what version has been released on DVD (finally). Was it worth the long wait?

The movie stars the very funny and talented Richard Dreyfuss who does an over-the-top performance as Roy Neary who has a "close encounter" one evening. After the encounter Roy begins having strange visions in his head - almost to the point where his whole family thinks he has gone mad. He and a group of others are drawn to a secluded place, which just happens to be the place where the government knows the aliens are going to land.

Many people have complained about many aspects of the film - like the movie's slower pace and now outdated special effects. You have to remember that these special effects were indeed very good for 1977! If somehow if you have never seen this film before, you may see mashed potatoes in a whole new light.

Even though the film does have its downsides, overall the film still holds up to the test of time and we finally have it on DVD. In case you were wondering, this is the 137-minute 1998 edit.

The video is presented in 2.35:1 anamorphic widescreen and is pretty good for the most part and has never looked better on any medium. The picture has grain but it can be easily overlooked.

The audio is presented in English and DTS 5.1 Surround and also 2.0 soundtracks in other languages. The soundtrack is obviously a bit dated now and not as active as newer films, but the mixes are a big improvement.

Extras include a 1.5-hour documentary (AWESOME), a featurette, 12 deleted scenes, trailers and more. Not to mention it is also the 137-minute cut of the film.

I personally love this movie and love the two disc set! My only real complaint is the AWEFUL packaging! Still highly recommended!
Please help support our site by buying this DVD title through this link. Thank you kindly.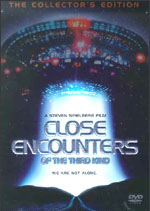 Purchase This DVD
Story / Content



Audio



Video



Extras