COLLATERAL DAMAGE
Reviewed July 23rd, 2002 by Dan Jones
As we all know, September 11, 2001 pushed quite a few movies back from their expected release date in order to allow for audience acceptance of specific genres, like films involving terrorism or war in general. Yet, it seemed even with delayed releases, these films still bombed when they hit the theaters; Collateral Damage is no exception. With a budget of eighty-five million dollars and a gross in U.S. box offices of just over forty, Collateral Damage was not the blockbuster film that I am sure Arnold and company imagined. Nevertheless, we cannot help but feel sorry for the more then unfortunate timing of the film; and as I was one of those who did not hit the theaters because I did not want to see Hollywood's take on what just happened (9-11), the DVD format makes for a perfect way to view a film. Let's face it; we have seen far-fetched terrorism films in the past, so it is probably unfair to go into Collateral Damage expecting complete realism... so I tried to check my left-brain at the door, while trying to forget about the events of 9-11 for a couple hours.

Collateral Damage is for the most part, typical Hollywood "man takes on an army" fare in the same vein as perhaps Rambo. Starting it out we have Arnold Schwarzenegger as firefighter, Gordy Brewer; a man with a wife and child whom are killed early on in the film due to a error in bombing by known terrorist known simply as El Lobo (The Wolf, played by Cliff Curtis). Of course, the U.S. Government, while trying to apprehend this terrorist, falls short of Arnold's expectations in their pursuit of El Lobo; so, Arnold decides to take matters into his own hands. In typical film fashion, Arnold heads to Columbia (Hollywood likes to pick on Columbia it seems) to track down El Lobo and avenge his family's death. We all know what happens next: explosions, death defying stunts, etc... Thankfully enough, Arnold meets up with a quality supporting cast in Francesca Neri, John Turturro and John Leguizamo that help to take the films overall weight off Arnold's shoulders. Still, I cannot help but walk away from this one thinking I have seen this all before. Collateral Damage is not a great film and it is not a bad film. This is typical Arnold fare, nothing more, nothing less.

Video wise, Collateral Damage is top notch. Presented in 1.85:1 anamorphic widescreen, Warner has done a terrific job with the film. Color and contrast is near perfect with very accurate flesh tone representation. Detail is strong throughout without noticeable haloing due to the often-overused edge enhancement. Blacks and darks are rich and deep while holding solid shadow detail. I noticed little grain and no digital compression problems. A great transfer all around.

Like the video, Collateral Damage boasts a very solid Dolby Digital 5.1 mix. Surrounds are used quite aggressively in the more heavy scenes, while still holding great small details in the quieter scenes (like the jungle); this helps to create a great enveloping effect. Voice clarity and detail is just about perfect throughout. The LFE is used often and really rattles the ground when needed. Overall, this mix is nice and aggressive; Arnold would approve.

On the extras side, we do not have too many, but what we have is quite nice. Obviously this was somewhat of a box office bomb so its not surprising to see a quasi-limited release (supplements wise) from Warner… time will tell to see if a more robust release is in store for the future.

The first, and most important extra, is the audio commentary by the film's director, Andrew Davis. While this commentary does not delve too much into the film's inner-workings, it does give us some nice plot and character insight, as well as some info on the territory used in the film.

Next, we have two somewhat short featurettes. One is a HBO documentary-esque feature which seems somewhat promotional in nature (as do most HBO presentations on DVDs) delving into the films characters and overall plot. Next, we have a shorter feature entitled "The Hero in a New Era" which provides some insight on the films postponement due to 9-11 and some parallels between the film and the act itself. Let's face it though, there is little to no relation between an Arnold film on terrorism created before America's most tragic day, and that day itself; this is Hollywood, not real life. This feature is basically a couple of guys (Arnold included) taking their job too seriously in relation to the world.

Adding to the supplements, we have six deleted scenes of varying video and audio quality. None of these scenes are too thought provoking nor worthy of final cut; but they are worth a watch I suppose.

Rounding it out we have select filmographies for the more prominent actors, and the film's theatrical trailer in anamorphic widescreen.

Overall Collateral Damage is just an average Schwarzenegger film dealing with the same storyline we have seen before. If you are a huge Arnold fan you will have to add this one to your collection, but besides that, I would just recommend this one for a rental. DVD wise, Warner has done a great job, but they unfortunately cannot improve the film. It is a good check your brain at the door film, but don't expect much.
Please help support our site by buying this DVD title through this link. Thank you kindly.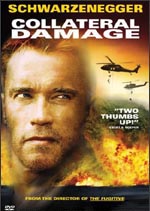 Purchase This DVD

Purchase Promo Poster

Story / Content



Audio



Video



Extras