CONAN THE BARBARIAN (CE)
Reviewed May 21st, 2000 by John Randall
Arnold Schwarzenegger and James Earl Jones star in this semi-mythical tale of the sword-swinging hero Conan. Basically Conan (Arnold) is shown at an early age where he witnesses his parent's murder, becomes a slave, grows up and seeks revenge.

For the most part the movie has its moments. Co-written by Oliver Stone, the movie has some good action and a great performance by James Early Jones who plays Thulsa Doom – a cult leader of sorts.

The movie is set in an almost medieval time period with magic, sword fights and fighting for honor and of course you can't forget large beasts and saving a woman.

Personally, I enjoyed the sequel (Conan the Destroyer) better. However, this movie has more theatrics in it.

Universal has gone and redid Conan the Barbarian and released it on DVD. The new version is MUCH better than the first time around, but it still has plenty of room for improvement.

The video is presented in 2.35:1 anamorphic widescreen and is a much better transfer than the last release. The movie in general is not perfect by any means – there are plenty of bad looking scenes, but overall colors, black levels and sharpness are all ok.

Audio is presented in 2-channel mono – whatever that is. It's mono and sound will only come out of your center speaker unless you turn off your Dolby processing. Generally dialogue isn't bad and if you have a good center speaker, you might hear a little bass coming out of it. I just don't get why studios wouldn't take the time and spend the money on new remixes. At least give us 2.0 or something – only if 5.1 isn't possible at all.

Bonus material? Absolutely. Included is: a great 53 minute documentary, a commentary by director John Milius and Arnold Schwarzenegger, a 1 minute special effects scene showing the demons coming after Conan's body, 6 minutes of deleted scenes, 11 minute feature of production art (with music), 2 trailers, production notes and web links.

This is a pretty good action film for its time. The new release by Universal is really better than the first even though it hch.< lot of room for improvement. The movie is the extended cut and runs 130 minutes. It is rated R for nudity and violence.
Please help support our site by buying this DVD title through this link. Thank you kindly.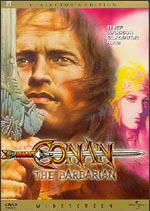 Purchase This DVD
Story / Content



Audio



Video



Extras