COYOTE UGLY
Reviewed April 8th, 2001 by Brian White
Hooray for boobies!!!!!!

I learned an awful lot about New York City seeing Coyote Ugly. First of all, if a girl wants to realize her dreams there, she has to dress like a whore, like Sandi at the end of Grease, before she can get things done. It's sort of a ring-of-fire she must pass through before she gets karma on her side. The second thing I learned about New York City is that everywhere you go, somebody's playing either "Unbelievable" by EMF, or the Urban Cowboy soundtrack. FYI to guys in New York: You don't have to go to some dive-bar and have some snotty chix spray you up with booze. Here in Canada we have these things called strip clubs. I'm surprised you haven't heard of them. Certainly there mustn't be any strip clubs in the United States, or no one could conceive of anything as stupid as the bar situation that is Coyote Ugly.

Ultimately, you don't have enough RAM on your computer to download a description of everything I HATE about this movie. Basically, it's a cliché about a girl from a small town who moves to the big city to realize her dream of becoming a songwriter. Everything goes wrong for her, and she ends up working at this wild and crazy bar where the waitresses (not a fat, ugly one in site) dance on the bar and serve up attitude, and a criminally thin bar menu. So if you'll indulge me for a little rant of Feminist film theory (I took every film course at my university): a girl dresses like a slut and gyrates for a bunch of slobbering males to empower herself. The only way our heroine can find strength is by sacrificing her individuality to the male gaze. There's that, and you don't get to see any of these chix naked. Sure they're all hot, but pick up a swim suit issue instead. This is a chick-flick disguised as a guy movie. That is a crime.

Coyote Ugly is every bit as stupid, and demeaning to women as Showgirls, without any of the nudity. As a result, there's no real reason to see this movie. And if that isn't enough, they expect us to believe that Tyra Banks is in law school.

Did I mention there's no nudity?

So how about the DVD? A major studio spent way too much money on this flick. As a result, the picture and audio are excellent. The anamorphic, 2.35:1 transfer is really quite good. There is some interesting photography in this movie, in the big glossy Hollywood sense, and the disc shows it off well. The gritty New York look is nicely represented here. Also, the girls aren't too hard on the eyes.

For audio, you get two 5.1 tracks, in both Dolby Digital and DTS. The DTS mix is the better of the two (the DD isn't really lacking, but it isn't as loud or wide or detailed when you compare the two). There is a lot of music here, and your subwoofer gets a little workout.

There are lots of extras here, or at least a documentary split into a bunch of pieces to look like a bunch of extras. There's all this Coyote 101 stuff, which talks about behind the scenes business that you shouldn't care about. There's also information about the music, and the Lee Ann Rimes video. Finally, there is a feature-length commentary by Producer Jerry Bruckheimer, Director David McNally, and The Coyotes. At no point do they sufficiently reveal what the hell they were thinking making a crap film like this.
Please help support our site by buying this DVD title through this link. Thank you kindly.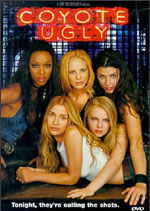 Purchase This DVD
Story / Content



Audio



Video



Extras