CRIMSON CODE, THE
Reviewed March 4th, 2001 by Len D. Martin
Cast: Patrick Muldoon (Jason Chandler), Cathy Moriarty (Stephanie Dobson), Tim Thomerson (William Heywood), Fred Ward (Randall Brooks), C. Thomas Howell (J.B. Gaines), David Brown (Warshofsky), David Millbern (Reed), David Beecroft (Garcia), Lee J. Campbell (Arthur Reeves), James Durham (Walter Ringler), Deb Patterson (Patty), Arne MacPherson (Freddy Whiteside), Stan Lesk (Wild Eyes).

Director: Jeremy Haft.

Story: FBI Agents Chandler and Dobson are assigned the task of tracking down serial killers. When they are called to investigate the murder of a young woman Chandler notices something under her fingernails and asks for an analysis of the residue. When they return to the office they are met by their boss Heywood, leader of the Red Team - the Serial Killer Apprehension Team. Meanwhile, Chandler and Dobson receive a phone call that one of the men they have been searching for has died in an automobile accident. They go to investigate and Chandler notices something strange - the body had been tied to the steering wheel! Back at the office, Chandler searches the Serial Killer database and notices something strange - not only are two serial killers dead, but there has been no activity from six others for a period of six months. Finding this strange, he consults his one time mentor Randall Brooks, who is a computer whiz, and he manages to break into another database and learns that all six have died under mysterious circumstances. Later Chandler learns that the residue that had been under the dead woman's nails, came from a flower, that is sold in one particular shop. Arriving there, Chandler confronts J. B. Gaines, a known felon and suspected serial killer. Now it is up to Chandler and Dobson to find out who is killing the Serial Killers. Is it Gaines, who wants notoriety all to himself, or is it someone else? These are questions posed by "The Crimson Code"

Audio: Presented in 2.0 Dolby Stereo and Dolby 5.1 Surround. Excellent 5.1 Quality!

Video: Presented in Full Screen Aspect Ration of 1.33:1. Excellent quality!

Extras: Audio Commentary by Director Jeremy Haft; Theatrical Trailer; Biographies and Filmographies of Cast, Director, Writer, and Producers.

Comments: Released in Canada and overseas in 2000 as RED TEAM. Released in the United States as a direct-to-DVD release.
Please help support our site by buying this DVD title through this link. Thank you kindly.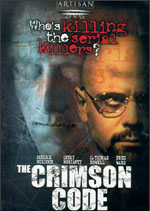 Purchase This DVD
Story / Content



Audio



Video



Extras