CROC FILES: VOL 1
Reviewed July 7th, 2001 by John DeFoor
This DVD is nothing more than a compilation of the TV series Crocodile Hunter. The hosts of the show are Steve and Terri Irwin from Australia. They took five shows and put them on one DVD.

These shows include "Charlie", a crocodile that Steve and Terri rescue from a concrete pit. The crocodile is very mean and aggressive. They move him to a Zoo in Australia and make a perfect living environment for him and even give him a lady. "How to Catch a Crocodile" has Steve and Terri showing us how to catch crocodiles. They use different methods from lassos to diving out of boats for them. "Aussie Legends" is another of the episodes. This episode is full of documentary on the animals Australia is known for. For example: kangaroos, koala bears, wallabies, and wombats. Lastly Steve and Terri explore the "Pacific Northwest" which includes the western animals such as beaver, bison, cougars, otters, elk, snakes, and bears. This episode contains information about the animals that us as Americans are more accustomed to.

The sound is really no different from the TV Series. It is presented in Dolby Digital 2.0 (stereo). There is actually no reason to buy the DVD over the tape as far as sound goes.

The video was formatted in full screen (1.33:1 aspect ratio). The video along with the sound does not really differ from the TV series or the VHS much. There are few points where the clarity is better. There are also parts where a VHS or the TV could not pick up as far as detail. Other than these two, the picture isn't much different.

The DVD has decent extras. The special features are informational. They include "Steve and Terri's Mission", which in part is to conserve animals through excited education. "Croc Cam Photo Gallery" is a photo gallery that the viewer can search through and look at different pictures of different wildlife and people. "Safety Tips in Croc Country" are tips to take into consideration if you were to ever be in crocodile territory. These tips are on documents that the viewer would read off the screen. And "Fact files" is merely facts in the same format as the safety tips and must to read them off the screen as well.

Overall the DVD is ok. If you are into wildlife and the Crocodile Hunter theme this is right on for you. If you are into killer graphics, special effects, awesome sound, go get something else. However this DVD is full of information and is great for all ages. The special features are interactive and could be used as a resource on certain types of animals. The concepts put into this DVD are good and will create interest in people and possibly help Steve and Terri's mission be completed.
Please help support our site by buying this DVD title through this link. Thank you kindly.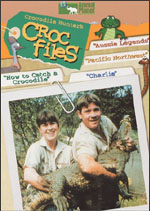 Purchase This DVD
Story / Content



Audio



Video



Extras