CROSSROADS
Reviewed July 21st, 2002 by John Randall
A road trip movie staring Britney Spears? More like a 90-minute sales-pitch for her album.

I can tell you that I was not very eager to sit down and watch this film, but was somewhat curious how good or bad Ms. Spears' acting ability would be. I was not very shocked in the end.

This is a story of three young ladies who were once the best of friends but over the years grew apart. A long time promise brings the girls together on the night of their graduation from high school. They decide to take a cross-country trip to LA. So the three girls and some guy who decides to drive them – take off for what should be an adventure of their lifetimes.

I just could not seem to get into this film. I usually dig so called "chick flicks" but not this one. The acting was not horrible – there were plenty of cameos, and a few laughs, but this kind of film obviously was targeted just for a select section of the public. If you are expecting a fun road trip kind of movie – that is not really what this film is about (but it does have some of those moments). This is a film about growing up, dealing with things like parents who reject you, pregnancy, and infidelity – but there is some humor in there.

The main highlights of the film came from the cameos. Why in the world did Dan Aykroyd (Ghostbusters) and Kim Cattrall (Sex and the City) sign on to play Britney's parents? Justin Long (Warren from NBC's show Ed) was great as usual and you might also see Kool Moe Dee.

Of course, what would a Britney Spears movie be without her singing? Top moments include a cover of "I Love Rock N Roll" and of course her singing "I'm Not A Girl; Not Yet A Woman".

If you like the film or not, is totally going to be up to you, so let us go on to what you do care about – how does the DVD measture up...

The video is presented in 1.85:1 anamorphic widescreen and is generally pretty good. Grain is visible in some shots like one in a bathroom. Detail seems very good, but soft in some spots as well.

The audio is presented in Dolby Digital 5.1 and is pretty strong. Dialogue for the most part is clear and the music numbers are pretty damn good with the LFE channel thumping. Surrounds sound very good as well.

There is actually some good extras on the disc. First up is a commentary track by the filmmakers. Next up is a rather interesting way to view the film: "Break-Through Britney" allows you to watch the film and occasionally Britney will pop up and talk about a certain aspect of the film. Almost nightmarish, but cool.

Next up is a 20 minute featurette called "40 Days With Britney" with a behind the scenes look at the film. There is also a featurette called "First In Line" where we follow actress Zoe Saldana on her way to the premiere of the film. "Taryn's T-Shirts" is an amusing featurette where actress Taryn Manning, in an amusing way, shows us how to make... T-shirts of course.

Of course, what could a Britney DVD be without music videos? Videos for "Overprotected" and of course "I'm Not A Girl, Not Yet A Woman" are included. Better yet, how about a section for both songs so you can sing as Britney? Yep look for karaoke. There is even an edit section to let you re-edit "I'm Not A Girl" using some clips.

Lastly, look for trailers, photos, and even a special "DVD welcome" by Ms. Spears herself!

I sure wish I could recommend this film, but just can't. If you love Ms. Spears jumping around in her underwear, then this film is for you. If you are looking for good, acting – we can only hope her next film project will be of a more non-musical / more dramatical role so we can see if she really has it.
Please help support our site by buying this DVD title through this link. Thank you kindly.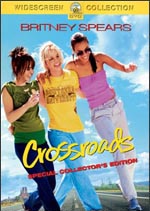 Purchase This DVD

Purchase Promo Poster

Story / Content



Audio



Video



Extras