CROUCHING TIGER, HIDDEN DRAGON
Reviewed May 30th, 2001 by John Randall
Crouching Tiger, Hidden Dragon (also known as Wo hu zang long) is one of those movies that had a lot of hype. I personally didn't ever listen to the hype but unfortunately never got around to seeing this film when it was originally released. Now we have it on DVD and I was sure eager to check it out.

I have to agree and disagree with plenty of critics out there. The movie was indeed short on its plot, but in total the movie was pretty breathtaking. Yun-Fat Chow and Michelle Yeoh really do a fine job acting in the lead roles and Ang Lee's direction is right on.

The basic plot is about a magical sword that is stolen and the quest to get it back.

The movie is pretty stunning with its awesome fight scenes and overall just looks cool. But you have to also remember that this is more than an action film - more than a fantasy or love story as well.

Some things might be over some people's heads and may be a bit hard to follow in some sequences. That is mostly due to the fact that the film is in the Mandarin language and most people just don't like to read subtitles while watching a film.

The video on the DVD is presented in 2.35:1 anamorphic widescreen and frankly kicks ass.

The audio is presented in Dolby Digital 5.1 in Mandarin, a horrible 5.1 English dub and French and English 2.0. The 5.1 soundtracks really put you in the action of the fighting sequences.

Extras include an audio commentary, a 20-minute making-of special, a conversation with Michelle Yeoh, photos, production notes, talent files and some trailers.

Maybe the movie doesn't exactly live up to all the hype, but it sure was a treat to watch in the end. If you don't mind the subtitles - make sure you watch the film the way it was meant to be watched. Highly recommended.
Please help support our site by buying this DVD title through this link. Thank you kindly.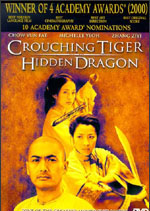 Purchase This DVD
Story / Content



Audio



Video



Extras