CSI: CRIME SCENE INVESTIGATION - THE COMPLETE FIRST SEASON
Reviewed April 4th, 2003 by Dan Jones
"Forget about making a hundred, forget about the victim, forget about the suspect and focus on the only thing that won't lie: the facts."

I have been watching CSI off and on since its start on CBS on October 6, 2000. In a time-spot full of derivative cop shows that offer little to no difference between themselves besides their cast, CSI was a refreshing change.

CSI takes place in the enigmatic Las Vegas; a city known for its casinos and promises of riches, but also for its dark underbelly of corruption, crime, prostitution, and drugs. This location allows for exponentially greater storylines then if it were to take place in the often used New York, a place known for crime but a place that doesn't allow for the things that make Las Vegas the place it is. Gil Grissom (played brilliantly by William Petersen) plays the leader of his CSI team in Vegas. His team consists of Catherine Willows (a once Vegas stripper), Warrick Brown (a recovering gambler), and the young Sara Sidle and Nick Stokes. The cast of characters are all well developed as the season unfolds; something that most cop shows shy away from, rather focusing on the cases and not the people involved in solving them.

While many police dramas focus on who did it and why, CSI focuses on exactly how the evidence is collected and analyzed; the laundry list of gadgetry used and the sheer knowledge that these people bring to their work. Nerds? Probably. Outside the box thinkers? Definitely.

I often wonder if the life of a real-life CSI employee is as exciting as the show makes it out to be, or whether the job is really as tedious I'd think it would be (although I'm sure some incoming freshman have decided to focus on forensics due to this show). Nevertheless, what is presented here is near-perfect dramatic television, even if it's a bit sensationalized.

All 23 episodes from season one are here, specifically: Pilot, Cool Change, Crate and Burial, Pledging Mr. Johnson, Friends and Lovers, Who Are You?, Blood Drops, Anonymous, Unfriendly Skies, Sex, Lies and Larvae, I-15 Murders, Fahrenheit 932, Boom, To Halve and to Hold, Table Stakes, Too Tough to Die, Face Lift, $35K O.B.O, Gentle, Gentle, Sounds of Silence, Justice is Served, Evaluation Day, and Strip Strangler.

On to the DVD presentation, which spans over six discs.

Full screen. Yes, you heard right; even though the show is presented in high-definition widescreen via CBS, the DVD presentation we have here comes in 4:3 full-screen only. Nevertheless, these transfers look very good. I noticed neither compression problems nor any source problems. Detail is good and colors look good, if not a bit washed out at times. As we are dealing with a desert environment I get the feeling this is the style the show was going for; the same style logic can be applied to the very dark scenes (as most the activity takes place after midnight). The cinematic nature of the show screams for widescreen though, making its absence quite saddening.

As we at DVDCC needed an explanation as to why season one is presented here in 4:3 full screen, we contacted Paramount on the topic. It seems CBS provided them with the full-screen transfer only, and not their widescreen masters... Nevertheless, we were assured that future seasons will be 16:9 widescreen at Paramount's insistence.

On the audio side, we receive the show's broadcast 2.0 surround track instead of a nice 5.1 remix. This is another one of those decisions I do not quite understand as the show could have some engaging surround use; this is a city filled with noises you know. While the 2.0 track is fine overall, it doesn't add anything over what you have heard watching it on CBS. Dialogue is clear and imaging up front is fine, but there is hardly any activity coming from behind you. Pro-Logic II helps here a bit (if you have it), but a nice 5.1 mix would have great.

Adding to that thrown together feel are the supplements included. "CSI - People Lie… But the Evidence Never Does" is just another promotional featurette providing little more then congratulatory interviews. Also included is a music video for the show's theme song, "Who Are You" by The Who. Rounding it out we have some character profiles. That is all.

I cannot help but think that this DVD release was rushed. I was hoping for a set that would at least be similar to Fox's X-Files season releases, with perhaps a handful of commentaries, deleted scenes and actual quality interviews/behind the scenes information, and of course anamorphic widescreen and 5.1 remixes. CSI is one of the best shows on television and frankly this set doesn't show that. Yet, as I said, CSI is one of the best shows on television; therefore, it is hard not to recommend it.
Please help support our site by buying this DVD title through this link. Thank you kindly.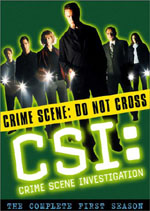 Purchase This DVD
Story / Content



Audio



Video



Extras