CUT
Reviewed April 15th, 2002 by David Nusair
Given the amount of Scream knockoffs that have come tumbling down the pike in the past couple of years, it really was just a matter of time until other countries got into the act.

This particular Scream clone comes to us from down under, Australia. As the movie opens, we see a film crew working on their own horror film (the movie tries to trick us into believing that the opening is real, but these movie-with-a-movie sequences are always about as convincing as Nicolas Cage as an Italian soldier), with pop singer Kylie Minogue playing the director and '80s teen queen Molly Ringwald as the star. Strange things are afoot, though, when Minogue is murdered (her tongue is cut out; wonder if the writer was trying to send her a not-too-subtle hint?) and Ringwald confronts the killer – ultimately killing him. Cut to 12 years later, and the unfinished film has become something of a cult item. It seems as though whenever someone attempts to watch the footage, they die. So, obviously, a group of enterprising young filmmakers decide to laugh in the face of almost certain death and complete the movie. They hire the Ringwald character and head off for the shoot (which, of course, is to occur at the same location). It doesn't take a rocket scientist to figure out that crew members start disappearing once the filming begins.

Cut's no better or worse than the many Scream wannabes that have been popping up over the last few years. There's a lot of much appreciated killin', but not much gore (which seems to be the trend with these sorts of movies – why?). What makes Cut a little bit different than most of these films is its self-referential nature, though Urban Legends 2: Final Cut even beat it to that punch. Since these folks are making a horror film, it only makes sense that they themselves have seen a lot of scary movies – including Scream (when Ringwald's agent is trying to convince her to do the film, he mentions Courtney Cox's success in that series). And while the screenwriter occasionally seems to just be plugging in titles without actually having seen the movies (The Texas Chain-Saw Massacre is actually quite gore-free, despite what one of the characters says), the script is surprisingly clever and funny.

But when it comes time to reveal the identity of the killer, the screenplay opts for a more supernatural twist – one that'll have even the most die-hard fantasy nerds shaking their heads. Without spoiling anything, let's just say that the explanation for how this killer came to be is awfully ludicrous (even laughable). But regardless, Cut is entertaining enough and is surely a cut (oh, you had to have been expecting that) above some of the other Scream-inspired horror films of late.

Audio: Cut's presented with a 2.0 dolby soundtrack and it's efficient but unimpressive. Dialogue is crisp, but that's about it.

Video: This anamorphic 1.85:1 transfer in no way belies the film's low budget. There's a lot of grain here, though it seems as though that's the way the movie was intended to look. As far as Trimark presentations go, this is certainly a step up from some of their other attempts.

Extras: A trailer, along with trailers for Attraction and Blood Surf.

Conclusion: Nothing earth-shattering here, but you could certainly do worse.
Please help support our site by buying this DVD title through this link. Thank you kindly.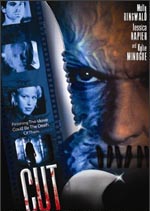 Purchase This DVD
Story / Content



Audio



Video



Extras