DANGEROUS MINDS
Reviewed August 22nd, 1999 by Staff
What do you get when you combine the hot Michelle Pfeiffer, playing Louanne Johnson an x-marine and now teacher, with a class of students that are the worst of the worst? An excellent, entertaining and emotional masterpiece. This movie really has a lot of underlining meanings. We are quickly shown that the system is probably the cause of why these kids are considered rejects. The class personalities are somewhat stereotypical, but nonetheless get the point across and that is that no one is a "Reject." That if you are able to reach these kids, even knows it is harder with this bunch then with most students, you can tap their unlimited potential. This movie will introduce you to the harsh realities that some of these underprivileged kids face. This movie can easily become one of your all time favorites!

Now for the not so good news, the video transfer. All one can come to think is that this movie was diced up into sections and handed to different teams for the digital transfer. Reason being is that in one scene you have a pristine, immaculate looking image and then five minutes later your thinking to yourself wow, this is as bad as VHS! The movie quality varies greatly during the 99-minute movie. The video transfer is presented in widescreen in its original theatrical aspect ratio of 1.85:1.

The audio transfer on the other hand was given the Disney magic touch. We are presented with a great Dolby Digital 5.1 Soundtrack that is remarkably clear. Although not all channels are as vibrant as some of the modern day films it is very clear and by far the best you will hear from this movie to date.

The extra's, yes we have a couple of extra's! It appears Disney is slowly learning from their mistakes. We are given the video of "Gangsta's Paradise" performed by Coolio. Still we would have loved to have more extra's like Directors/Actors commentaries, Behind the Scenes Footage, Deleted Scenes, Alternative Endings, Storyboards, Full Script and any of the 100's of other potential extra's! Still this is a step in the right direction Disney.

Overall a great movie one that will grip you and draw you into the live of these children! If you can pick this little number up on sale and add it to your collection!
Please help support our site by buying this DVD title through this link. Thank you kindly.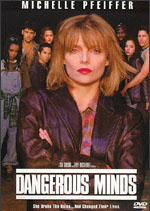 Purchase This DVD
Story / Content



Audio



Video



Extras