DAREDEVIL
Reviewed April 28th, 2003 by Dan Jones
"How do you kill a man without fear?"

Yet another comic book adaptation hit the theaters earlier this year, promising through its commercials to be "as great as it is cool;" that film was Daredevil. What a horrible, horrible quote to use...but I digress.

Matt Murdock (Daredevil), played by Ben Affleck, has a pretty simple superhero back-story. It seems his father was killed and Murdock himself was blinded by radioactive waste that, nicely enough, exponentially raised his remaining senses; one of which being an ability that could be described as sonar, allowing him to see via sound waves. He also, in typical superhero fashion, became a martial arts expert and vowed to fight evil.

During the day Murdock is a successful criminal lawyer, representing the downtrodden in his neighborhood. At night, Daredevil takes to the streets to avenge and protect these same people. The majority of the crime in the city is a direct result of Kingpin (Michael Clarke Duncan) and his sidekick Bullseye (Collin Farrell).

Enter Elektra, the quintessential female in any good superhero story, played by Alias's Jennifer Garner. Elektra also wishes to avenge the death of her father, and eventually runs into Murdock in the process.

It's hard to form a good opinion of this film as its obvious that this wasn't meant to be a film on anything more then an action-adventure level. We get just about zero back-story on Murdock, how he developed his powers or why some of his current powers don't seem to make any sense (gravity defiance being one); Elektra gets even less back-story. The script is overly hokey at times with scenes that just seem to be added to show off the film's style or show a fight scene for a few more minutes (Murdock and Elektra fighting in the playground for one). The enemies are not all that interesting; for example, Bullseye can you guessed it, throw things well. Finally, the dialogue is quite bad at times; not George Lucas in new Star Wars bad, but bad nonetheless.

Yet, for the popcorn movie that it is, Daredevil is entertaining. The film is quite stylish and some of the special effects, specifically the sonar ability, are quite cool. Daredevil is not my favorite comic book adaptation, but its not that bad either. Just leave your brain at home.

Daredevil is presented here in 2.35:1 anamorphic widescreen and the results are quite good. The film is quite dark and this transfer presents that well with pretty good shadow detail and solid and deep darks and blacks. Colors are well represented and flesh tones look fine. I noticed no problems with the source, yet there did seem to be some noticeable compression problems, probably due to the use of both discs for extras. Overall though, this is a very solid transfer.

On the audio side, this disc is sure to impress. What we are given here are excellent reference quality tracks in DTS and Dolby Digital, with the nod going to the DTS track for slightly tighter, more authoritative LFE. Both tracks are stunning though, with exceptional surround use, excellent dynamic range, great 360 degree imaging and near-perfect bass presence. Truly great mixes here, you may have a new demo disc.

Tons and tons of extras.

First off on disc one, we have an audio commentary with Daredevil director Steven Mark Johnson and producer Gary Foster. This is quite an informative commentary, touching on just about all aspects of the film; from the story to casting to the special effects.

Next we have an enhanced viewing mode, which allows us to watch the film and upon seeing an icon appear on the screen, view multiple angles of a given shot and the special effects that went into it. Unfortunately these can only be viewed by skimming through the entire film.

Rounding out disc one we have a fact track subtitle option that can run during the film, giving facts and information about the film and the story. Good for those that don't know much about the comic book.

Disc two is broken up into featurettes on "The Comic Book" and "The Film."

Starting off the comic book side we have The Men Without Fear: Creating Daredevil, which runs about one hour in length. This feature consists of a number of interviews from some of the famed men at Marvel, from Stan Lee to John Romita and many inbetween. Next we have a comic book to film representation of Daredevil's heightened abilities, basically showing how these were displayed in the comic, followed up with a short scene from the movie. Finally we have modeling sheets, which are relatively short bios of the film's characters.

Starting off the film section, we have Beyond Hell's Kitchen: Making Daredevil. This was far better then I expected, offering quite a lot of behind the scenes information on the film, as well as interviews with many of the cast and crew. Much of this footage is shot on location, instead of specifically created after the fact, giving a much greater behind the scenes feel. Quite good, with a runtime of about an hour. This also has the enhanced viewing mode which branches to a few other short segments.

Next we have a screen test with Jennifer Garner, as well as a few multi-angle action sequences. Also included is a 3-minute character profile on Kingpin. In typical promo fashion, we have an HBO documentary, hosted by Jennifer Garner. Nothing really too special here, basically consisting of plot summary and promo-type interviews with the main cast. Finally in the featurettes category we have Moving Through Space: A Day With Tom Sullivan, who was the blind consultant for the film.

Rounding it out we have two theatrical trailers and a teaser, a stills gallery, and a handful of music videos by Fuel, The Calling, and Evanescence.

Overall Daredevil's not a bad film, it just seems that not much thought or time was put into making it anymore then an ask no questions popcorn movie. This DVD presentation here is great, with very good video, exceptional audio (it will blow you away!) and a ton of extras. Any fan of the film should check this out and any comic book aficionado should add this to their collection.
Please help support our site by buying this DVD title through this link. Thank you kindly.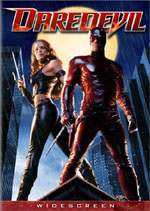 Purchase This DVD

Purchase Promo Poster

Story / Content



Audio



Video



Extras