DARK CRYSTAL, THE
Reviewed October 17th, 1999 by Staff
In 1982, the late Jim Henson and Frank Oz directed this amazing film. The movie has no human actors in it. The whole film is presented to us with puppets, creatures, masks and rubber.

It is a dark time. The evil side is Skeksis, a bird-like creature who rules from a castle. The good side is the Mystics, a being that can't even really be described as anything. The Skeksis harness the power of the Dark Crystal, a strange and mysterious purplish crystal in the heart of the Skeksis castle.

Jen is the last of the Gelfling race (they look like elfs) who is raised by the Mystics. One day he learns that the fate of everyone is in his hands. He must go on a quest to find a piece of the mysterious Dark Crystal and "heal" the crystal by returning the missing shard. If he does not finish his quest in time, evil will rule the world forever.

This is a very dark film. Parents should be strongly cautioned and may want to watch the film first before allowing a young child to view it.

The video is presented in 2.35:1 widescreen format and is 16x9 enhanced. The transfer is better than anything before it, however at first glance, you will see problems with the quality. You will see many specs throughout the film, but unfortunately, this is from the original print and not much can be done about it (don't let that stop you from picking up this classic).

The audio is presented in DD 5.1 but don't expect a big show from this disc. No split surrounds could be heard and there is not much bass in this movie. However, dialogue and most of the sound is clear.

The supplements are a wonderful addition. First there is a nearly hour long documentary made during the time of shooting called "The World of The Dark Crystal". There is also a couple work print scenes (with captions) to allow you to hear the original dialogue from some scenes. Also included is the deleted funeral scene, an isolated music score, some original artwork, production notes, trailers and more.
Please help support our site by buying this DVD title through this link. Thank you kindly.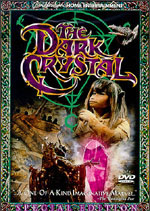 Purchase This DVD
Story / Content



Audio



Video



Extras