DAS BOOT (SUPERBIT)
Reviewed March 1st, 2003 by Dan Jones
Das Boot is one of the best war movies ever made. Moreover, the best submarine movie ever made. The film does an insanely good job of displaying the pressure and claustrophobia that goes along with being placed on a submarine during wartime.

Back in 1981, an extraordinary German mini-series was made with a run-time of six hours. This mini-series was the original form of Das Boot. Directed by Wolfgang Peterson, Das Boot is the story of a German U-Boat's crew during World War II. Leading the crew is Capt.-Lt. Henrich Lehmann-Willenbrock (played brilliantly by Jürgen Prochnow), a man who is no stranger to war; the best of the best at his job. These men were sent into positions of near impossible success, fighting an uphill battle at all times for a man (Hitler) whose ideals they did not understand.

For the theatrical release, the film was cut in time considerably, bringing it to 145 minutes. Later Peterson revisited the film to create his director's cut, coming in at a brisk 210 minutes. This is the version featured here. Do not let the films length deter you from viewing it, as it'll whip right by.

No doubt, the most amazing part of Das Boot is how the film was shot. This was not a walk in the park for any of the cast and crew, shot in ultra-realistic conditions over huge amounts of time. It's obvious there is little room for movement on set, with tight and jumpy camera shots (obviously some shot hand-held). This presentation makes the film so unique in presentation, forcing the viewer to nearly experience this claustrophobia first hand. A tremendous achievement in itself.

So, the film is brilliant. How's the DVD? Well, very nice. This will be Das Boot's second release to the DVD format, this time with a Superbit presentation. The first DVD release was on a flipper disc (had to flip the film half way). This is now spread over two discs to increase capacity available.

So what is Superbit? (If you have read my previous Superbit reviews, forgive me for repeating myself) Well, the goal behind the Columbia/Tristar Superbit line is to basically take the current DVD technology, and push it to the greatest of extents in terms of digital picture and sound, by increasing the bandwidth allowed to the video and audio tracks; instead of dropping these bit rates to make room for ANY supplemental material, interactive menus, etc. Columbia/Tri-Star has created a new type of Superbit releases with extras, namely the "Superbit Deluxe" editions, but Das Boot is not a part of this.

Wow the video. What an improvement over the original DVD release, which often suffered from detail issues and compression problems. None of that is seen here. Besides occasionally grainy scenes, this is an immaculate transfer. Detail is greatly improved; colors, while not overly vibrant, are nicely represented, and darks and blacks are rich and deep. This is a huge improvement over the initial release, I have to give it to Columbia on this one, as they obviously put a great amount of effort into improving the quality of the presentation.

Audio? Brilliant. This is one of those films you should warn your neighbors about. With available tracks in Dolby Digital and DTS, this one will not disappoint. Depth charges will shake your room, as well as any room nearby. Fidelity and range is excellent. Environmental effects, like rushing water are represented perfectly. These tracks are just so enveloping and dynamic. Which one is the best? Well, I have to give the nod to the DTS track, with improved range and punch on the low end. Excellent job.

Extras? This is non-Deluxe Superbit…so no.

Das Boot is one of the best war films ever made, as well as being perhaps one of the best films ever made. Das Boot drops you right into the hell that is war, in the worst possible scenario, on a submarine with horrible odds against you. This Superbit release greatly improves in video quality as well as upping audio quality over the initial release. Nevertheless, if you have the original, you are going to want to keep that handy, as none of the extras from that release have been ported over. Overall, this is one of those films you have to have in your collection; and this Superbit release is bar-none the best way to watch it. Das Boot is not to be missed. Highly recommended.
Please help support our site by buying this DVD title through this link. Thank you kindly.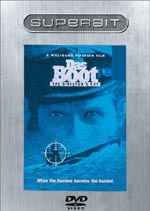 Purchase This DVD
Story / Content



Audio



Video



Extras