DAWSON'S CREEK: THE COMPLETE SECOND SEASON
Reviewed January 5th, 2004 by David Nusair
In its second season, Dawson's Creek really came into its own. The first season was primarily dedicated to setting the show apart from other teen dramas like Beverly Hills 90210, accomplished by allowing the characters speak like highly educated intellectuals rather than high school students and eschewing sleaze in favor of more deliberately paced story arcs that took episodes to play out.

Though we had been introduced to the core group of characters in the first season – Dawson (James van der Beek), Joey (Katie Holmes), Pacey (Joshua Jackson), and Jen (Michelle Williams – the second season brought in several new faces which certainly went a long way towards making things more interesting. When the first season left off, Dawson and Joey – friends since childhood – were in the middle of their first kiss, a relationship change that Joey had been after for some time (she'd had a crush on Dawson since puberty). But their relationship doesn't last long, and Joey's reasons for dumping Dawson remain as perplexing today as they did during the show's initial airing. Pacey, the perpetual second banana of the first season, has finally been given something to do – in the form of an intriguing new student named Andie (played by Meredith Monroe). Andie is one of those enthusiastic students who seems to ace every class she attends, but as the season progresses, it becomes clear that there's a fair bit of tragedy in her past.

Andie also brings with her the most interesting new character, her brother named Jack (Kerr Smith). Though he initially seems to be quite heterosexual (going so far as to hit on Joey), midway through the season, Jack comes to the realization that he's actually gay. This revelation brings with it a whole host of problems for Jack, including a torrent of verbal abuse from fellow students and a strained relationship with his father (who's clearly not happy about his son's newfound sexual orientation). And as for Jen, she's still in the process of discovering herself. She flirts with her sordid past in her friendship with a local bad girl named Abby (Monica Keena), whose eventual death finally shakes Jen out of her rebellious ways. Other guest stars include Roswell hunk Jason Behr as a sleazy student and Final Destination actress Ali Larter as a popular cheerleader that Pacey has eyes for.

The only thing that makes the second season of Dawson's Creek less than stellar is Joey's transformation from sweet girl next door to obnoxious and indecisive nitwit. As the show progressed, she became an increasingly intolerable figure; so unpleasant it was virtually impossible to understand why any of her friends continued to remain by her side. Though she's not quite as unbearable in the second season as she'd eventually become, the self-centered beginnings are there (the way she chooses her hobby of drawing over Dawson, for example). As for the rest of the characters, they're all given plenty to do – unlike in later seasons, in which the show's creators would desperately search for things to occupy the characters' time (ie having Pacey, an incredibly laid-back guy, become a driven stockbroker).

Dawson's Creek: The Complete Second Season works perfectly on its own, without having seen the first season or any that followed. The 22 episodes contained within offer the gamut of adolescent angst, and clearly stand as proof that the show had perhaps peaked a little too soon in its life.

Audio: Each episode of Dawson's Creek is presented with a 2.0 channel Dolby Surround soundtrack, and there's no denying that the show sounds fantastic. There's a certain level of fidelity found here that was absent during the series' network run. However, as the back of the packaging states, some songs have been replaced at the discretion of the executive producer. This was likely done due to licensing costs associated with the move from television to DVD. Having not seen the show since it's initial run, it's impossible for me to discern what exactly has changed and I suspect the majority of folks buying this set will be unable to notice any differences. Still, kudos to Columbia Tristar Home Entertainment for coming right out and mentioning the change.

Video: As the show never made the switch to HD, each episode is presented in crystal clear full screen. The image is never too sharp, with the hazy glow of the series perfectly represented here. A very fine transfer.

Extras: The only real extra here is a commentary track from producer Paul Stupin on the first and last episodes. He proves to be an exceptionally exuberant speaker, with a whole lot of interesting tidbits and anecdotes about the show. He barely pauses for a breath on both tracks, and never runs out of stories. This is one of those ideal commentary tracks where it feels like the speaker is sitting next to you shooting the breeze. Also included are bonus trailers for Charlie's Angels: Full Throttle, Dick, Go, and Lone Star State of Mind.

Conclusion: Though the set isn't exactly heavy on the bonus features, Dawson's Creek: The Complete Second Season is certainly a worthy purchase if only to see some above-average acting and writing on a nighttime soap opera. A must for fans.
Please help support our site by buying this DVD title through this link. Thank you kindly.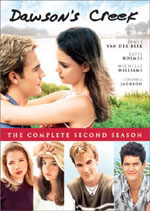 Purchase This DVD
Story / Content



Audio



Video



Extras