DESPERADO (SUPERBIT)
Reviewed November 15th, 2001 by Dan Jones
Bless me, Father, for I have just killed quite a few men.

Desperado is one of those movies that are just plain fun to watch. It is definitely an ultra-violent action movie, with little plot and little acting, which is all made up for with great cinematography and style. Desperado is Robert Rodriquez continuation of his El Mariachi story, and truly does pick up where the last first ended. El Mariachi, played by Antonio Banderas, enters this movie looking to avenge the murder of his past lover, and ends up killing just about everyone on the way, after just about everyone tries to kill him.

Adding to the acting pool in Desperado, we get the new love interest Salma Hayek playing Carolina, along with some short parts by Steve Buscemi, Cheech Marin, and Quentin Tarantino. Frankly, most of the actors are there just to increase the possible body count, nothing more, nothing less.

Robert Rodriguez's Desperado could easily be mistaken for being a John Woo film, having similar stunts, cinematography, and ultra violent gunfights that rival those of other similar films by Woo, most notably the Killer. Although perhaps Rodriguez is not quite up to Woo's level, he has created a very fun, ultra-violent action movie. Now, on to DVD stuff...

The Superbit version of Desperado marks the second (or perhaps third) release of Desperado to the DVD format. First, we had the initial DVD release; then we had the Desperado/El Mariachi DVD release (Desperado was the exact same as the original release); now we have the Superbit release. This release comes from an entirely new transfer that really puts the previous release(s) to shame. This is also the third Superbit DVD in the current crop of releases that I have reviewed personally, more on that later.

So what is Superbit? (If you have read my previous Superbit reviews, forgive me for repeating myself) Well, the goal behind the Columbia/Tristar Superbit line is to basically take the current DVD technology, and push it to the greatest of extents in terms of digital picture and sound, by increasing the bandwidth allowed to the video and audio tracks; instead of dropping these bit rates to make room for ANY supplemental material, interactive menus, etc. This Desperado Superbit DVD release follows this same template of course.

On the video side, Desperado is presented in 1.85:1 anamorphic widescreen. As I mentioned before this is a new transfer, making Desperado's previous transfer look like bad VHS. The picture is super clean, clear of any visual artifacting or blemishes. Flesh tones are right on; blacks and shadows are great, color contrast is perfect. This marks just another great transfer to the Superbit collection, with just perfect video quality.

On the audio side, continuing the Superbit tradition we are given the option of a full bit rate 5.1 Dolby Digital track of a half bit rate 5.1 DTS track. For an action movie such as this, with gunfights every five minutes, these tracks are extremely good, loud, and lively. The DTS track is really the standout of the two though, giving great depth and richness to the sound and great use of the LFE channel. As always with the Superbit releases we are given 1000 possibilities for subtitles... well maybe not that mean, but we do get English, Spanish, French, Chinese, Korean, Portuguese and Thai.

Extras? This is Superbit... so no.

Desperado is truly an extraordinary ultra-violent action movie. It has great style and cinematography, masterful choreography of the gunfights, and overall, its just plain fun to watch, especially on this newly created Superbit version. It should be said that this release to the Superbit line is a bit different then what you'll fine in other Superbit releases; in that it sports an entirely new transfer that no one should be able to not notice; something that isn't always as apparent in the past Superbit releases. Therefore, if you own the previous version there really should be no question in whether or not you upgrade to this release; you should, it is so much better. Highly recommended.
Please help support our site by buying this DVD title through this link. Thank you kindly.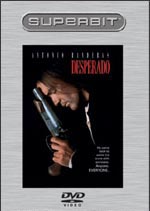 Purchase This DVD
Story / Content



Audio



Video



Extras