DIAMONDS ARE FOREVER (SE)
Reviewed March 4th, 2001 by Brian White
Diamonds are Forever, the seventh official Bond screen adventure, is notable mostly because it is Connery's last turn as Bond in an Eon-produced film. After quitting the series, following the filming of 1967's You Only Live Twice, Connery was succeeded as 007 by George Lazenby. When the Australian model quit after his only Bond adventure, 1969's On Her Majesty's Secret Service, producers Albert R Broccoli and Harry Saltzman were faced with the daunting task of casting a new Bond. Luckily, their first intention: to make Bond and American agent, in an attempt to lure a younger audience, was eclipsed by United Artists' insistence that they woo Connery back at any price. The highest fee ever paid an actor as of 1970: one million dollars and change, was given to Connery to reprise the role of Bond. Connery included stiff penalties into his contract to prevent the filming schedule from going too long. Connery also donated his entire fee to his Scottish artists' foundation.

The best part of the movie is Bond's vengeance upon who he thinks is Blofeld in the pre-credits sequence. Blofeld might have killed Lazenby's Bond's wife, but he had to deal with Connery's Bond's rage. The opening sequence highlights one of the biggest weaknesses in this film: poor production values. Some scenes look quite good in terms of general cinematography, other scenes look quite cheap and cheesy. Ken Adam's sets are fine, but sometimes they are lit strangely, and extras sport silver hard hats with lightning bolts painted on them. The special effects in the oilrig finale are less-than-special. The Bond formula is in full bloom here, as Bond goes to the real Blofeld's layer at the end, and switches the "computer tape" to mess up the Goldeneye -like satellite plot. Despite a quality screenplay, and some good stunt work, this movie hasn't aged well. There are some very silly sequences, like the lunar-rover car chase through the desert. This is a period of Bond transition. Gone is the funky sixties charm. Instead, we get tan, flared slacks and fat, mid-chest ties.

In terms of video quality, the anamorphic 2.35:1 transfer is acceptable. It is certainly a much better picture than you'll get anywhere else, but it's nothing to write home about. Even more disappointing is the digital Mono audio track. It might be the best that this film can look or sound, but it's not good enough.

Making up for the mediocre movie is the great slate of extras. Once again, we get a quality documentary on the making of the film. Any Bond fan will find the revelations quite interesting. Also included is an informative documentary on Bond producer Cubby Broccoli. The familiar spliced together interview/commentary track is also present. There are some deleted scenes, and the typical promotional material.

This is a Connery collection-completer.
Please help support our site by buying this DVD title through this link. Thank you kindly.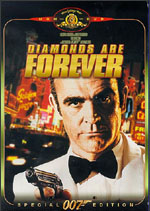 Purchase This DVD
Story / Content



Audio



Video



Extras