DIE ANOTHER DAY
Reviewed July 9th, 2003 by Brian White
It has been forty years since Harry Saltzman and Albert R. Broccoli put their first Bond film on the screen. Dr. No was a huge success, and all these years later, a twentieth film is released, celebrating the most durable film franchise of all time. There is a lot to prove with Die Another Day, however Broccoli's Eon Productions is on a high with the current batch of Bond films. While the movies have always been popular, Pierce Brosnan's spin as Bond has breathed new life into the series, and the box office takes have grown.

Die Another Day is an ambitious undertaking. Not only must it pay homage to a series of films that boasts several classics, but it must also succeed as a film on its own; and hopefully be one of the best Bond films. Modern Bond films face the difficulty of never being seen by the fans as on par with the early Sean Connery films. Certainly if the best Bond film were in fact produced today, many fans would still dismiss it as lesser to From Russia With Love. There is too much competition from nostalgia.

The twentieth Bond film is a great ride, with lots of action, wit, and some fantastic production values. It skews a little over-the-top. Not Moonraker over-the-top mind you, but it is a little too fantastical. In all fairness, movies like You Only Live Twice were on a very large scale that pushed the envelope of believability, so Die Another Day does fit into the mold. The argument could be made, however, that there is an Austin Powers vibe to the Bad Guy's Ice Palace layer.

Throughout the film, the viewer can recognize several winks at previous Bond flicks. In the interest of preserving the surprise, these references are not listed here. It is nice to see Bond drive an Aston Martin again. Clearly Ford can afford to outbid BMW, so Bond is back behind the correct steering wheel. Of course, we also get great views of other Ford vehicles, such as the Jaguar and Mustang.

Die Another Day follows the typical Bond structure, although the opening is a little different, and adds some edge to the flick. Bond is set up, and finds himself at odds with MI6. He must go it alone to fix what is wrong. One thing of note is that for the first time in the series, the pre-titles action sequence, the titles sequence and the rest of the film follow the same narrative.

In keeping with recent Bond DVDs, the video on this disc is fantastic. Everything is clear and detailed. Colors are good, and you'll no doubt see this disc on big screen TVs at Best Buy. Here's another disc to show off your swanky new television. The transfer is 2.35:1 anamorphic. A separate fullscreen edition is available.

The audio is top notch as well, but we've grown to expect that from Bond. One great departure from the previous discs is the inclusion of a DTS 5.1 ES (Matrix) mix. Usually Bond fans must make due with Dolby Digital (despite DTS mixes being released on laser disc), but now we have DTS included, and it is great. All the audio sweetness is that much better. A great Dolby Digital 5.1 EX mix is also included. As with past Bond films, the mix is very active. You get explosions and bullets ricocheting off your back wall and all around you. Great stuff. Also, that techno Madonna song at the beginning sounds great in DTS.

Another departure for this disc is the inclusion of a second disc for extras! Yes, the other Bond discs have had some great extras, but this disc is an attempt to give you an even more special edition than you've had in the past. This DVD is very cool. You get and Innofilm-like treatment in that you can elect to watch the movie with information bubbles popping up to describe filming, or Bond lore. Moving documentaries to the second disc not only allowed room for the DTS mix, but for a commentary track with Pierce Brosnan and Rosamund Pike, who plays Miranda Frost. This track is a little sparse, with Brosnan remaining quieter than the listener might like. Director Lee Tamahori and co-producer Michael G. Wilson provide a much more lively and informative commentary. Moving to the second disc, there are a number of substantial documentaries about the making of the film. These are mostly broken down according to the action sequences, but there is a lovely bit about the treatment of Q, in terms of the anniversary of the series and in the wake of Desmond Llewelyn's passing. Also included are featurettes about the video grading, storyboard to film evolutions, and the creation of the titles sequence. You can also view a few shots from multiple angles. The second disc also boasts Madonna's video, as well as the making of the video and production stills. A cool little feature is the gadget's overview, where 3D computer models of the gadgets rotate on the screen as a voice-over describes their purpose. This is especially cool for the Vanquish. As though this were not enough, you get the trailers and a bit about the Nightfire videogame. Highly recommended.
Please help support our site by buying this DVD title through this link. Thank you kindly.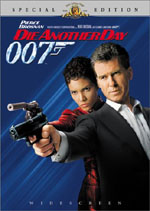 Purchase This DVD
Story / Content



Audio



Video



Extras