DINNER WITH FRIENDS
Reviewed April 3rd, 2002 by David Nusair
Dinner with Friends is proof positive that sometimes an intelligent script, talented actors, and a skillful director are all thatís required to create a compelling and engaging film.

Based on a play by Donald Margulies, Dinner with Friends follows two couples as they explore the treacherous landscape that is marriage, with one pair successful and the other not. Dennis Quaid and Andie MacDowell star as the successful and happily married couple, while Toni Collette and Greg Kinnear appear as an estranged couple that, as the title implies, are good friends with the Quaid and MacDowell characters. Through the space of close to two hours, we watch as the couples bicker amongst each other, but mostly just talk about what it means to be married and indeed, what it means to grow older.

Apart from a flashback sequence in the middle of the movie, Dinner with Friends relies entirely on the conversations of the quartet to propel the story forward. They talk Ė a lot Ė about varying things, ranging from their love of food to what they perceive to be the meaning of life. And unlike some movies adapted from plays, the dialogue here doesnít sound forced or stilted. These conversations seem genuine; the sort that good friends would have with one another (not to mention couples in the privacy of their bedrooms).

Despite the presence of noted energy-killer Andie MacDowell, the performances are all note-perfect. Even MacDowell herself manages to create a well-rounded character. But the real surprises here are Quaid and Kinnear. Quaid is just as charming as ever, playing this man who oftentimes must acquiesce to his wifeís decisions. And Kinnear, saddled with the most complex role, peels back the layers of someone who initially comes off as a sleazy adulterer (we slowly find out thereís much more to the story).

Dinner with Friends is by no means perfect Ė it goes on a touch too long and yes, itís quite talky Ė but in this era where dumb comedies and mindless action flicks rule, it does provide a refreshing change of pace.

Audio: Dinner with Friends comes equipped with a DD 5.1 soundtrack and, not surprisingly, itís somewhat underwhelming. The dialogue is fine and always clear, but this certainly isnít the sort of disc youíd whip out to demonstrate the power of home theater.

Video: On the other hand, this 1.85:1 anamorphic transfer is mighty impressive. Probably due to the fact that this was a straight-to-HBO production, this is a clear and bright presentation. Colors are vivid while darker sequences are just as effective.

Extras: The biggest extra here is a commentary track with director Norman Jewison. Say what you will about his politics, but the man proves to be a fascinating speaker. He talks about every facet of the production, including how he came to cast each of the four roles. There are few quiet spots, which makes this an exemplary commentary track.

Conclusion: Dinner with Friends is just the sort of intelligent fare we donít get nearly enough of. Donít miss it.
Please help support our site by buying this DVD title through this link. Thank you kindly.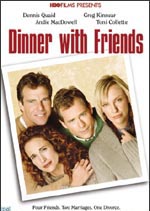 Purchase This DVD
Story / Content



Audio



Video



Extras