DOGMA: SPECIAL EDITION
Reviewed June 28th, 2001 by John Randall
"I feel like I'm Han Solo, and you're Chewie, and she's Ben Kenobi, and we're in that fucked-up bar..."

I have to admit - I am a big Kevin Smith fan. I eagerly await the final Jay and Silent Bob movie that is coming out this fall. Clerks started it all and is still very humorous to watch. Next came Mallrats, which is a different kind of movie, but very funny as well (and one hell of a DVD). Chasing Amy took a different turn as well with its very adult theme of homosexuality. Finally we got Dogma: that basically sets out to offend everyone and everything - especially religion.

When the original DVD was released, fans were a bit disappointed that it didn't include many extras - but Columbia TriStar has finally set it straight with this most awesome 2-disc set!

There really isn't the need to retell the plot here, but what the hell. It's up to Jay and Silent Bob to stop two fallen angels from undoing existence. That's about it. Of course there are plenty of sub-plots but that is as descriptive as I'm gonna go because you just don't want to give away a good movie like this.

Even if by some chance you don't like the movie, there is plenty of star power in this one to keep almost everyone happy. You got Ben Affleck, Matt Damon, Linda Fiorentino, George Carlin, Salma Hayek, Jason Lee, Alan Rickman, Chris Rock. Not to mention Kevin Smith and Jason Mewes of course (and some surprises as well).

The video is presented in 2.35:1 anamorphic widescreen and does pretty good. Image is sometimes soft, but overall a good transfer.

The audio is presented in Dolby Digital 5.1 and again does pretty good. There are other 2.0 tracks in various languages as well.

The extras is really what this set is all about. First off you have two separate commentary tracks by various people. There is also a "Follow the Buddy Christ" option to let you see snippets of hidden features and some storyboards. One of the best extras is the 100 minutes of deleted and extended sequences! And the funniest extra is the outrageous outtake reel. Lastly there are talent files, a trailer and more.

If you are a fan of Dogma, you are going to want to have this set. If you just enjoy the movie and already own the older disc, then you may want to skip it. Either way this movie is very entertaining and disc is highly recommended.
Please help support our site by buying this DVD title through this link. Thank you kindly.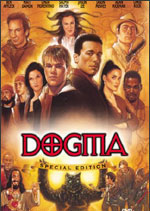 Purchase This DVD
Story / Content



Audio



Video



Extras