DRAWING FLIES
Reviewed February 11th, 2002 by John Randall
How can one possibly explain this film?!

First off, fans of View Askew productions (oh you know Clerks, Mallrats, Dogma, Jay and Silent Bob Strike Back, etc.) will be happy to learn that this so-called "long lost" film is finally going to be available on DVD. The DVD presents us with the standard version, along with a special directors cut. Differences are relatively minimal though between these two versions.

I guess I should also say that I personally am a big Kevin Smith fan and was eager to open this DVD and check it out. Drawing Flies was executive produced by Kevin Smith. Oddly enough two directors, Matthew Gissing and Malcolm Ingram, directed the film; although I must say that this was not too imperceptible as the film sometimes struggles to move along... as if being pulled in different directions... Gissing versus Ingram if you will.

The story is about a group of friends leaving town in Canada to spend some time in the woods of Vancouver. The only problem is they were all suckered into going by someone going insane about finding Bigfoot of all things.

Starring in the film is Jason Lee, Renée Humphrey, Carmen Lee, Jason Mewes, and others. Also, watch out for some good cameos that I just will not give away.

Jason Lee was actually very good in some of the scenes. I really think people need to keep an eye on Mr. Lee. After Almost Famous and Chasing Amy – this man has it going on!

This film was shot in black and white and is presented in full frame on the DVD. The picture is very grainy at times and could have used some touch-up. It was actually a lot worse than I thought it should have looked. Guess a good restoration was not going to work for this release.

The audio is presented in Dolby Digital 2.0 and for the most part sounds good with most of the sound coming out of the center speaker (assuming you run 2.0 films in Pro-Logic I or II, the latter which is quite nice by the way). Unfortunately, there are a few instances of audio dropouts, which were very annoying.

The disc actually has some good extras. For starters, when you begin to watch the film, Scott Mosier and Kevin Smith have an introduction that attempts to explain the logic behind the film. This was quite simply, just okay. Next up there are two audio commentaries. The commentary with the cast and crew (specifically Jason Lee, Jason Mewes, Renee Humphrey, Carmen Lee and producers Kevin Smith and Scott Mosier) was absolutely wonderful to listen to and very humorous.

Next up there is about thirteen minutes of added footage and outtakes that were a bit amusing. Of course, no disc can be complete without a section of other films put out by IndieDVD, have to get that promotional material out there to the people don't you know?

I can tell you straight up that most people are not going to like this film. On the other hand, I actually enjoyed it and would recommend it to any View Askew lover like myself. The video transfer is pretty sub par and the 2.0 audio track is not too phenomenal... but this is essentially a "lost film" so I suppose we cannot expect too much. But, as I said, for View Askew fans, this should be required viewing.
Please help support our site by buying this DVD title through this link. Thank you kindly.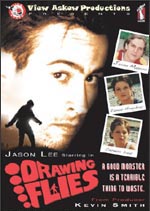 Purchase This DVD
Story / Content



Audio



Video



Extras