DR. SEUSS' HOW THE GRINCH STOLE CHRISTMAS
Reviewed November 5th, 2001 by Dan Jones
I hope to God that we all know the timeless story behind the famous Dr. Seuss classic, "How the Grinch Stole Christmas." We get the joy-filled city of the Who's, celebrating the coming of Christmas, then we get the hate filled ostracized Who, now known as the Grinch at the top of the mountain top overlooking Whoville whom cannot stand their general happiness and Christmas cheer; so he devises a plan to steal Christmas from the unexpecting Who's, and do some general terrorizing of them while he's at it.. This is the general story behind the original How the Grinch Stole Christmas, but being it 22 minutes, Ron Howard had to find a way to extend the story; and in the process update it for the current times. Overall, he has done a very nice job with this, adding in some parts that obviously were not in the original, but without distracting the audience or deviating from the original, timeless, plot.

The Grinch is one of those roles that was just perfect for Jim Carey. His comedic talent made him easily the best choice and, in this writers opinion, the only real choice. The Grinch is joined by a very charming Taylor Momsen, or Cindy Lou Who, whom tries to get the Who's to realize that the Grinch is not what they think he is; and, in the process teach them the true meaning of Christmas. We also get a nice narration by Anthony Hopkins, and a good supporting cast of Rachel Bailit, Jeffrey Tambor, Christine Baranski, and Saturday Night Live's Molly Shannon.

Overall, this Ron Howard remake does great justice to the original Dr. Seuss story most all of us known and love and undoubtedly will, in time, be considered a favorite Christmas movie by children and adults alike. Now, let's take a look at how this new Grinch transfers to DVD...

First off, there are a total of three different releases of this movie coming to DVD. The first is the widescreen release which we will concentrate on here and the second is a pan&scan version which I hardly wanted to mention.

The third is sort of unique as it comes with a pan&scan version in a 9x9 three dimensional playset. You can check out that version by clicking here.

All three versions contain the same extras and audio features.

The widescreen version is presented in 1.85:1 anamorphic widescreen and is a really good transfer minus only a few distractions. Colors seem near perfect, but the blacks don't seem quite black enough. Also the image does not seem as sharp as it should.

There are really plenty of audio options to choose from on these discs! First off they have English and French Dolby Digital 5.1 soundtracks, an English DTS 5.1 soundtrack and even an interesting Descriptive Video Service track where the scenes are described in words. Kudos to Universal for including that one.

There are a few good extras that are included. There are five making-of featurettes that in total run about 30 minutes, there are also a few deleted scenes that are ok I suppose, an outtake reel (I love those!), some interactive material for the kids, the music video for "Where Are You Christmas" by Faith Hill, a trailer and a few more Christmas goodies.

In closing, this "new" Grinch on DVD should serve as an excellent edition to any family's collection. With the timeless story of the Who's and the Grinch, very good acting, and a solid DVD collection jammed with extras, How the Grinch Stole Christmas is highly recommended.
Please help support our site by buying this DVD title through this link. Thank you kindly.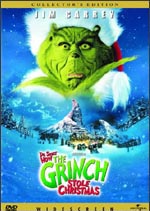 Purchase This DVD
Story / Content



Audio



Video



Extras