DUMBO
Reviewed October 29th, 2001 by John Randall
To save some time, I will say that I was highly disappointed with this DVD. I thought the video quality could have been so much better like Snow White was. But alas, it wasn't, so on with the review...

As a youngster, this was one of my favorite things to watch. To tell you the truth the 'Pink Elephants On Parade' number used to give me nightmares!

This really is a great story about acceptance and true friendship if nothing else.

You've got Dumbo – a lovable elephant who is the cutest blue-eyed elephant you ever did see. The only problem is Dumbo has these enormous ears!

To make this short story even shorter: Dumbo is born into the circus life. Dumbo's mom gets labeled insane when she tries to protect her youngin. Dumbo befriends a mouse named Timothy, mouse figures out Dumbo can fly and ultimately Dumbo becomes the envy of everyone.

I really did not realize how short this movie really is – which clocks in at only 64 minutes. As a child I could have sworn it was like 3 hours long!

'Pink Elephants On Parade' is still spooky even to this day. I swear whoever invented it had to be on a bad acid trip. But the scene really works and is one of the most intriguing scenes in any motion picture to date.

The music has some very unforgettable numbers like "Casey Junior" and of course "When I See an Elephant Fly".

The story also explores a ton of taboo subjects that would never make it in a G-type movie today. Let's see – a cigar smoking crow, the main characters getting drunk on wine, a mother getting separated from her child in an emotionally charged scene, and the subject of Dumbo taking his revenge at the end against the clowns and the other elephants. Wow.

We can talk that kind of stuff all day long, but on to the actual DVD release...

The video is presented in its original 1.33:1 aspect ratio filling the screen of a 4:3 TV. Even though this really is the best Dumbo has ever looked – as I stated above, I was highly disappointed. This movie really did need a complete digital makeover. There is tons of grain, but most of what you see is the source material and not the transfer. Dumbo really needs a restoration.

The audio is presented in Dolby Digital 5.1 and I was pretty unimpressed with this as well. Usually I say that a 5.1 soundtrack should be done on pretty much all older releases, but they really have to go in and remaster the soundtrack for it to work. Dumbo's soundtrack isn't horrible but it is quite flat for the most part. The soundstage is pretty much totally to the front channels with very little bass except in a few key sequences.

Extras include an audio commentary with Disney historian John Canemaker, a new featurette called 'Celebrating Dumbo' with new interviews with various people which I actually liked, a featurette on the upcoming Dumbo II straight to video movie (no comment), and a music video to the tune of Baby Mine sung by Michael Crawford.

Other extras include Walt Disney's great original black & white intro, 'Elmer Elephant' and 'The Flying Mouse' animated shorts, two sing-alongs, two original Dumbo trailers from the 1940's, and even more.

Disney does get good marks for all the great extras.

Overall this is the best Dumbo has ever looked and even though it could have been better, this DVD is still highly recommended for the child in all of us.
Please help support our site by buying this DVD title through this link. Thank you kindly.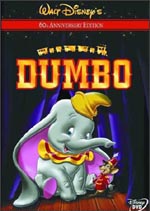 Purchase This DVD
Story / Content



Audio



Video



Extras