EASTWOOD AFTER HOURS: LIVE AT CARNEGIE HALL
Reviewed April 15th, 2002 by Dan Jones
Clint Eastwood getting a jazz tribute concert? Yea, I was a bit confused at first too. Nevertheless, it seems Clint Eastwood is a large proponent of jazz music and jazz artists, so much so that on October 7, 1996, a relatively large concert was played in his honor at the world-renowned Carnegie Hall.

If you are privy to the jazz scene, the names here should be quite impressive; if you are not privy to the jazz scene, just trust me on this. We have talent like James Carter, Christian McBride, Flip Phillips, Jimmy Scott, Joshua Redman, Thelonious Monk Jr., Hank Jones, Kenny Mahogany, the Carnegie Hall Jazz Band, and more. We also get some music from Clint's son Kyle Eastwood and his Quartet. Not too shabby hmm?

This is truly a very nice disc with an incredible sound that any fan of jazz should eat up. Perhaps the one caveat of the performance is the way in which Eastwood's work is somewhat awkwardly introduced into the presentation with random film clips and random audio clips... it just seems a bit out of place when you're listening to something like "Round Midnight" and a clip from an Eastwood flick starts rolling... but perhaps its just me. I just think there would have been a better way to honor the man before and after songs... and not so much during them.

Overall, Clint does not get too much stage time besides coming out at the end to pass on some words of wisdom on how the beauty of jazz music has to be passed on. He then takes to the piano as the credits roll.

Presented in full frame, the video transfer for Eastwood After Hours does its job. It is not overly wowing with what is overall a pretty subdued color palette and a fairly soft image. Of course when buying a concert on DVD, I would hope that the video presentation is not the biggest factor in your willingness to buy... so let's get right to the audio.

Audio wise, Eastwood After Hours is given a strong Dolby Surround 2.0 track that sounds very good. Of course, everyone likes the option of a 5.1 mix, but it does not happen here. Yet, I think most people will be taken a back by how good this track provided does sound. For lack of a better description, there is incredible warmth and intensity to the music, truly very enveloping. Close your eyes and you might just think you are in Carnegie Hall... in your very comfortable chair of course.

Extras wise, at least we get something. We're given a fairly promo documentary on the concert which includes some more from Eastwood; worth a watch for sure and a nice addition to the DVD as most concert DVDs just skip extras altogether.

Overall, Eastwood After Hours is a very strong concert for fans of jazz or fans of music in general. The presentation given to the concert here for the DVD format is very nice, with great audio and fairly good video. I do wish the Eastwood montages were done a bit different throughout the piece, but it does not detract too much from the listening and viewing experience. If you love jazz, or perhaps if you have never been exposed to it, give Eastwood After Hours a try, you will not be disappointed. Recommended.
Please help support our site by buying this DVD title through this link. Thank you kindly.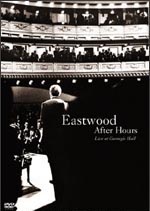 Purchase This DVD
Story / Content



Audio



Video



Extras