EMINEM - E
Reviewed September 29th, 2001 by Dan Jones
He really needs no introduction. We have heard him, seen him, or read about him many times in the last couple of years. His music is unquestionably some of the most controversial of it's time. The Slim Shady LP has sold over five-million copies, the Marshall Mathers LP selling over eight-million copies (according to the RIAA), and even this release I will be writing about has sold over a million copies. It seems everything he touches to, turns to gold, or should I say platinum?

His name: Eminem

Since the beginning of Eminem's short career, backed by the legendary Dr. Dre, Eminem has created some good, and some great videos. On the "E" DVD we get them all, mostly... we will get into that later. We are also brought some behind the scenes footage, and a short "Blair Witch like" extra called "The Mather's Home." Now for a closer look...

If I am to talk about any of the videos in detail, first off should be Stan. This is, in my opinion, the best song Eminem has ever written, telling the story of an overly obsessive fan and that fan's misinterpretation of the lyrics Eminem writes ("I say that s*** just clowning, dog come on, how f***ed up are you?"). Overall, it is a very powerful song, including backup vocals by Dido. The video is equally powerful, without a doubt the best one on the DVD. Most likely, most of the public have not seen the video in it's entirety on MTV or MTV2, and of course many of the lyrics were cut.

The other videos included on the DVD are, "Way I Am," "Real Slim Shady," "Role Model," "Guilty Conscience," "My Name Is," and "Just Don't Give A F***."

There is definitely some irony in this set though... Eminem always talks about how his lyrics are overly censored by the public, yet, it seems, they have decided to censor some of these videos out of sheer laziness (for all I can figure), instead of re-dub them. Of course, this is not to say all the videos are censored, as they're not, but "Guilty Conscience" and "Role Model" are clean versions, which seems... hurried to me.

The video is presented in standard full frame (except for Stan, which was shot in widescreen). The transfer is very good, leaving no visual blemishing or artifacting. Overall, there is really nothing to complain about here, this is the best that you will see these videos.

As for audio, we get a very solid 5.1 Dolby Digital track. The sound is very good, using the surrounds and the subwoofer nicely. Let's face it, the key element to a music video DVD has to be great sound, E delivers.

As for extras, we get a behind the scenes look at the making of Stan, featuring Dr. Dre, Eminem (of course), Dido, and others. Overall, this is a nice supplement to a great video, although I would have liked to see this on the other videos on the DVD set as well. We also get the bizarre extra I mentioned above, "The Mather's Home." This is a Blair Witch parody... you would have to see it to fully understand it. It is a relatively short extra that you would probably only watch once.

Overall, this is a solid DVD for any Eminem fan. It has its downfalls, some censored videos and a little shy on extras, but all in all, it gives you what you pay for: the videos in great sound and picture.

Eminem fan? Pick this one up.
Please help support our site by buying this DVD title through this link. Thank you kindly.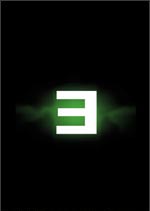 Purchase This DVD

Title Has Easter Eggs

Story / Content



Audio



Video



Extras