EMPEROR'S NEW GROOVE, THE (SINGLE DISC)
Reviewed June 10th, 2001 by Brian White
Another Disney animated feature has been released on DVD, and it is worth a look. If you have kids, this is certainly a worthwhile purchase. If you're an adult who is fond of animation, then this is a good rental. Disney really incorporates a hip, smartass humor into this film that makes it entertaining to both kids and adults. There are several laugh-out-loud moments. The hook of the comedy is either from physical slapstick, or attitude. All around, The Emperor's New Groove is quite entertaining. There is no attempt at gooshy sentimentalism. This flick just is what it is.

David Spade voices the Emperor, who is turned into a Llama by Yzma (the excellent Eartha Kitt), after he fires her. John Goodman provides the voice for Pacha, an innocent nice guy who is thrown into the mix after the Emperor decides to build a palace on his land, and later needs Pacha's help to return to the Palace in Llama form. Rounding out the voices is Patrick Warburton as Kronk, Yzma's muscle-bound sidekick. Emperor's new groove is a very funny little movie. The voice acting is very strong. I was particularly impressed by Spade's performance. I really didn't think he had it in him (Joe Dirt anyone?)

One thing missing from this movie is any great amount of music. There were certainly plenty of musical cues in the film that never lead to anything. Sting wrote some music for the movie, but most of it isn't heard in the film. There is a song in the beginning, done very well by Tom Jones, but that's it. There's also a lame ballad over the end credits. Sting wrote music for an abandoned Disney project, and then wrote new songs for this flick. Perhaps his business dealings with Disney affected his muse.

The video on this DVD is excellent. The anamorphic, 1.66:1 transfer is beautiful, because it is direct digital to DVD, rather than a transfer of the film. Given that these animated films are mostly created in computers, and then transferred to film, Disney was able to skip the last step and give us a pristine transfer of the movie. As a result, everything is rock solid on the screen, without flicker, dirt or blemishes. It should also be mentioned that the vibrant color scheme in the film adds greatly to the perfect transfer. I've already noticed that stores are using this as a demo disc.

As for sound, this disc is also a winner. Both a DTS and a Dolby Digital 5.1 mix are included. I compared them on track 25, the chase, which involves a lot of percussion and music. The DTS mix was richer, but the Dolby Digital mix is no slouch either.

Despite the fact that this is a single disc (like all recent Disney DVDs, there is also a 2-disc release of Emperor's New Groove that features many more extras) the viewer is treated to a few special features. There are two music videos, one by Sting. There are brief documentaries on the location scouting, voice talent, and the computer animation. Similar to other recent Disney releases, there is an attempt to integrate computer animation that looks like traditional animation. Sometimes this attempt is successful (the bag with the Llama Emperor tumbling down the stairs), other times it looks good but is obviously CGI (Pacha's cart).

This one seems to have slipped under the radar. Do yourself a favor an check it out.
Please help support our site by buying this DVD title through this link. Thank you kindly.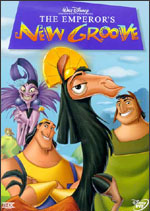 Purchase This DVD
Story / Content



Audio



Video



Extras