EMPIRE OF THE SUN
Reviewed November 12th, 2001 by John Randall
"Learned a new word today. Atom bomb. It was like the God taking a photograph..."

I actually remember going to the movies to see this one when it was originally released. If memory recalls, critics at the time didn't like the movie too much, but my whole family sure did. This is a Steven Spielberg movie if you haven't heard!

The story is based on the autobiography by J.G. Ballard. The story surrounds a young British boy named Jamie (Christian Bale) growing up sheltered and living in a rich district in China with his parents. When WWII begins and Japan invades China, Jamie is separated in a crowd from his parents – and his adventure begins.

Without giving much away, Jamie teams up with two Americans named Basie (John Malkovich) and Frank (Joe Pantoliano) and we see Jamie and others grow up inside a Japanese camp. We see Jamie (now called Jim by everyone) really grow as time goes by and how he deals and adapts to his surroundings.

First off, Christian Bale does a wonderful job in this movie. I loved him in Swing Kids – but he did even a finer job in this role. Fine acting also comes from John Malkovich as well as the rest of the cast. You might even catch Ben Stiller in the movie (I actually forgot he was in it until watching the DVD) in one of his earliest roles.

The music by John Williams can blow you away as well. The movie also has too many memorable lines to count! Can anyone really forget - "You taught me that people will do anything... for a potato"?

The film also has many touching and humorous moments – and of course plenty of Spielberg explosions to keep everyone happy.

Maybe the movie was just too long for average movie goers at the time in 1987 or something (runs 154 minutes). If you didn't get a chance to see this movie – for whatever reason - no time is better than this DVD release to check it out.

The video of the DVD is presented in 1.85:1 anamorphic widescreen and has never looked better. The only real problem is too much edge enhancement seen some throughout the movie. Besides that I was actually pretty impressed with the quality.

The audio has been redone in Dolby Digital 5.1 and rocks as well. Music (one of the most impressive parts of the film) sounds great. LFE and surrounds are not used as much as maybe they could except in key sequences, but dialogue is right on the mark throughout the whole film.

I really had wished for more extras on this release. It is such an epic-style movie and deserved more – like a brand new documentary would have been nice with new cast interviews. Instead what we get is a 45 minute documentary that was created at the time of filming. It is pretty good to watch as we do get a glimpse behind the scenes. The only other real extra is a trailer.

I really have always loved this movie and think it should have done better in its original release. I'm sure more people would appreciate this movie more if they would take the time out and buy or rent this DVD. Highly Recommended.
Please help support our site by buying this DVD title through this link. Thank you kindly.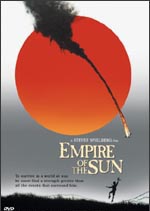 Purchase This DVD
Story / Content



Audio



Video



Extras