ENDLESS NIGHT
Reviewed March 4th, 2001 by Len D. Martin
Cast: Hayley Mills (Ellie), Hywel Bennett (Michael), Britt Ekland (Greta), George Sanders (Lippincott), David Bauer (Uncle Frank), Peter Bowles (Reuben), Patience Collier (Miss Townsend), Helen Horton (Aunt Beth), Lois Maxwell (Cora), Per Oscarsson (Santonix), Aubrey Richards (Dr. Philpott), Madge Ryan (Michael's Mother), Ann Way (Mrs. Philpott).

Director: Sidney Gilliat

Story: Michael, while on an outing to the country, finds a place of beauty in Gipsy's Acre. In his fantasy, he plans to build a house, find a wonderful girl and live happily ever after. But as he is leaving he meets Miss Townsend who warns him that the place has a curse on it. Later, Michael meets Ellie, a rich American Girl, and they fall in love and get married. Ellie will build Michael's house on Gipsy's Acre, but Greta, her companion and teacher , has to live with them. Michael agrees. As they all move into the new house, Michael has a sense of foreboding about the warning from Mrs. Townsend. Later, Micheal tires of having Greta hanging around and demands she leave, which is upsetting to Ellie. When Michael is at work, he receives a call – Ellie has been found dead! Was it an accident or murder or the cure of Gipsy's Acre?

Audio: Presented in Dolby Mono.

Video: Presented in Anamorphic Widescreen 1.77:1 - Enhabced for 16x9 televisions.

Extras: Theatrical Trailer.

Comments: For a 1972 film, Sound and Video are in excellent condition. The story is typical Agatha Christie, with a twist ending. Another winner from Anchor Bay!
Please help support our site by buying this DVD title through this link. Thank you kindly.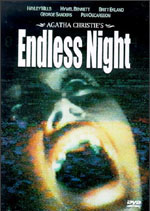 Purchase This DVD
Story / Content



Audio



Video



Extras