ESCAPE FROM NEW YORK
Reviewed April 10th, 2001 by Todd Terwilliger
The film that made Ernest Borgnine a legend. Okay, maybe not. But still, what sci-fi child of the Eighties doesn't remember Cabbie? Or Brain? Or the Duke of New York? Escape From New York was filled with memorable characters, one liners ("Call me Snake") and a great concept. If Escape was merely a straight ahead action flick, at least it did it with a flair, style, and manner all its own. And to this day, if I see somebody tapping a manhole cover, I won't wait around to see if the Crazies are coming.

The entire island of Manhattan has been turned into a prison. The bridges have been barricaded and huge walls installed across the rivers to prevent escape. Unfortunately, the President of the United States has just crash-landed there. Somebody has to get him out and fast. Enter Snake Plissken (Kurt Russell). Snake's an ex-special forces soldier who was about to be incarcerated on the island himself. A deal is struck: in exchange for his freedom, Snake will infiltrate the island and rescue the president. Unfortunately for Snake, there is a twist. If Snake doesn't emerge from Manhattan, with the President, inside of 24 hours, a small implant in his neck will kill him.

From Borgnine to Isaac Hayes, Escape has an A-list of cult stars. Adrienne Barbeau (Swamp Thing), Harry Dean Stanton (Repo Man), and Lee Van Cleef all grace the screen with their presences. Russell's Plissken is a cross between Dirty Harry and Rambo. He speaks softly and carries a big gun. If none of the performances are ground breaking or Academy-worthy, they are all memorable, especially Hayes as the self-proclaimed Duke of New York.

Escape From New York is presented in both widescreen and fullscreen formats on this MGM double-sided DVD edition. The widescreen format is shown in a 2.35:1 anamorphic aspect ratio. Overall, the film quality is average. There is a fair amount of grain throughout but nothing that is ultimately distracting. Detail is good, despite much of the film being under dark conditions.

The Dolby Digital 2.0 surround soundtrack is also serviceable, if not outstanding. The soundtrack maintains good clarity in the dialog and the soundtrack, featuring music by Director John Carpenter, sounds better than it ever has.

Unfortunately, MGM has provided a barebones package to go with the film. The only extra feature is a theatrical trailer. Considering the classic commentary by Carpenter and star Kurt Russell on The Thing, it is disappointing that a commentary for Escape could not be arranged.

Overall, this DVD represents the best that Escape From New York has ever looked or sounded. The disc is also anamorphic widescreen, a huge advantage over the older pan and scan version that was available. However, with such a barebones package, MGM has not given us a definitive collection. With the excellent looking edition of Big Trouble in Little China coming just around the corner, and the already great disc of The Thing, Escape comes to the party as their poor cousin. It is a great film and a great shame MGM could not find more to do with it.
Please help support our site by buying this DVD title through this link. Thank you kindly.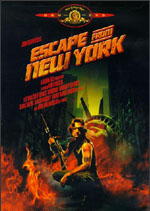 Purchase This DVD
Story / Content



Audio



Video



Extras