EVER AFTER
Reviewed October 17th, 1999 by Staff
Ever After: A Cinderella Story is a sweet, beautiful date flick. Drew Barrymore plays an independent 16th century Cinderella, named Danielle. Danielle's father marries a very bitchy character played quite well by Anjelica Huston. Danielle's father dies, and she ends up as a servant in her own house, looking after her bitchy step mother and evil step sisters. Cinderella/Danielle meets Prince Charming while doing a good deed. He's impressed by her grasp of social issues, or by the way she's always biting her bottom lip; or maybe it's her poor British accent (in France). Anyway, boy meets girl, boy and girl break up, and the title gives away the rest. While an attempt has obviously been made to render a fairy tale politically correct, the story isn't entirely castrated by the feminism and socialism. Again, there is a definite sweetness to this movie.

Director Andy Tennant has crafted an effective costume romantic comedy. The locations and cinematography are both very good. Again, Ever After contains some great performances. Apart from Huston, Dougray Scott as the crown prince of France is quite funny, charming, and all of that.

While not an anamorphic transfer, Ever After's 2:35:1 aspect ratio transfer is above the norm. Given the beautiful exterior shots of castles and nature, as well as the lovely interior shots of the notable costumes, the quality of the transfer is greatly appreciated.

The sound mix is also quite rich and detailed, although the 5.1 mix, if you can find it hidden on the Languages menu, is mostly toward the front. A little music and sound effects are sent to the surrounds. The sound across the front is mixed quite well. However, one might ask why the sound mixers piddled away a thunderstorm in the center channel.

There's nothing much for extras: a trailer, some language mixes and subtitles.
Please help support our site by buying this DVD title through this link. Thank you kindly.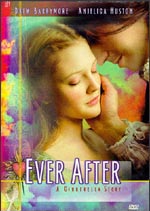 Purchase This DVD
Story / Content



Audio



Video



Extras