EVITA
Reviewed October 17th, 1999 by Staff
First thing: Alan Parker pulls it off. Evita could have been ridiculous. Musicals on film are pretty hit and miss. Evita is more than a faithful representation of Tim Rice and Andrew Lloyd Webber's greatest work. Only Tim Rice could mock the megalomaniac wife of a dictator, who slept her way to the top, with such venom; and still have the audience pity her in the end. This is Lloyd Webber at his best. Parker's representation of Evita maintains this original vision.

Parker does far more than just communicate this great play. He also puts stunning images on the screen. Check out the funeral procession which starts the film. Look at all those extras! Evita, like Eva's ego, is of epic proportions.

While it can be argued that Madonna was robbed by the Academy, it is her male lead that really shines. Yes, Antonio.... Eh-Banderas. And this is, how do you say? Ahhh yes..... Evita! While Banderas cannot be called "too sexy" here, he's great as Che, the Greek Chorus. Rice actually puts Che Guevera in the roll of a peculiar guardian angel/nemesis in Eva's life. Where does he come up with this stuff? Banderas is capable as both thespian and singer. As always, musical theater veteran Jonathan Pryce is fantastic as Peron.

The DVD looks wonderful. Colors are deep and rich. The image is very clear. The transfer is in 2.35:1 aspect ratio. The video can't be given a perfect score because the print is non anamorphic.

While the picture is very good, where the disc shines is in the sound DD 5.1 mix. Lloyd Webber produced a wonderful new soundtrack. He bragged that Evita has never sounded better. Indeed, the music sounds very good. Listen to that choir in "Oh What a Circus!" Surrounds and sub are subtle, but in keeping with the film.

Buena Vista tests our patience again with no features what so ever. Criterion, why the HELL are you doing The Rock? Do this Hollywood Pictures release instead! Then again, scene selection comes in handy when you want to see "Don't Cry for Me Argentina" right away.
Please help support our site by buying this DVD title through this link. Thank you kindly.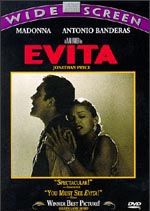 Purchase This DVD
Story / Content



Audio



Video



Extras