EVOLUTION
Reviewed January 3rd, 2002 by Dan Jones
ĒIs the Nobel prize paid in installments or in a lump sum like the lottery?Ē

You just know Ivan Reitman has wanted to release another Ghostbusters. Yet, perhaps it is for the best that Ghostbusters 3 never materialized, weíve been there and done that; what Evolution allows Reitman is a new cast, along with a different plot, while using the same formulas seen in Ghostbusters. Evolution is a movie that I was looking forward to for some time; from the beginning teaser trailer I was anxiously awaiting Evolution in hopes that Reitman could create a movie that had the power of Ghostbusters, with a new cast of actors that I enjoyed. In the end, I was not disappointed. Evolution is a funny comedy sci-fi movie that is very Ghostbusters like, while being different, in a good way, at the same time.

Evolution revolves around the idea that life on planets could be attributed to the landing of an essentially life bearing meteor; which upon crashing would evolve into much more complex life forms. Starting off the cast we have Seann William Scott as Wayne Green who plays a wannabe firefighter whom initially sees the meteor fall to earth. Next we get David Duchovny (whom seemed most natural in his role) of X-Files fame playing Dr. Ira Kane, whom plays a biology professor at a community college, and his geology professor friend, Harry Block, played by Orlando Jones. These two go out to the crash site to analyze the meteor, and make the first initially discovery of its rapid evolutional abilities. Ground zero of this meteor site quickly becomes overrun with a great variety of extraterrestrial life forms... and of course, the government soon steps in to try to cover it up. Next in to the cast we have Julianne Moore who plays Dr. Allison Reed, a government scientist. As the movie goes on, this evolutionary cycle goes from bad to worse, and possibly much worse if the team of Kane, Block, Reed and Green cannot figure out a way to stop the evolution, before the government interferes and makes it worse.

Duchovnyís character is without a doubt the most amusing one in the movie; with a past that never fully reveals itself. Yet we do get quite a humorous jog through some of it, one being that he was in charge of an anthrax vaccine for the military. But, this vaccine seemed to have some pretty bad side effects, and became known as the Kane madness, making him very well known, and heavily loathed by those that received the vaccine. This is brought up quite a bit and is the reason the government blocks Kaneís participation in the analyzing of the meteor and the life it creates.

Overall, I enjoyed Evolution a lot. It is a very fun ride, while not taking itself too seriously. It definitely has the Ghostbusters-like feel that is to be expected from Reitman. Duchovny, Scott, Jones and Moore make a great comedic acting team that seems to mesh quite well; Dan Aykroyd even comes in for a small part as Governor Lewis.

Now onto the DVD. This release marks one of the final releases from DreamWorks in 2001, and therefore should act as a barometer of 2002 releases...

For audio, DreamWorks may have gone a bit over the top, giving us three 5.1 Dolby Digital tracks, one DTS track, and one Dolby 2.0 track. The three Dolby Digital tracks come in English, Spanish, and French. Why is this over the top? Well... one could say that the space required for four complete 5.1 mixes, instead of the becoming standard of two (English Dolby Digital and DTS), might take away from more important aspects, such as video quality and extras. Weíll touch on that later. But, all in all, the 5.1 mixes are very, very good. The mix is very active, using the surrounds quite a bit, as well as having some very deep punch to the LFE. Voices are very clear and pronounced, making this overall a very good mix, no matter DTS or Dolby Digital. I did find the DTS track to be a touch better, with more defined details and imaging.

Also included are English captions, along with Spanish and French subtitles.

For video, Evolution is presented in approximately 1.85:1 anamorphic widescreen. Overall this is a pretty solid transfer, but it does suffer from minor problems here and there. Edge enhancement is present in some shots, as well as very minor compression artifacts on some of the more wide detailed shots. Overall though the transfer is pristine, clear of any noticeable grain or scratches. Color is very robust without bleeding on the very colorful CGI creatures that are ever present in the movie. Darks and blacks are right on, very rich and deep. Overall, this is a fine transfer from DreamWorks that only suffers from very minor problems that will probably go unnoticed to most of the population.

Onto to the supplemental material. First up an extremely amusing commentary track that makes the DVD itself worth in it my opinion. Perhaps less of a commentary track, more of a group conversation during the entire film, we get the cast of Ivan Reitman, David Duchovny, Orlando Jones, and Seann William Scott. It seems Reitman tries to keep the track a bit more serious, while taking a number of shots from the other participants. We also get a great bit from Duchovny on Reitmanís seemingly anal fixation throughout the movie. Watch the movie once, then watch it again with this track on. A great feature of this track is that it is available in subtitles form, for those that donít like the commentary drowning out the film.

Next we get a handful of deleted scenes, six in all including an alternate ending. Some of these scenes are actually quite good, and should provide a nice supplement to those that liked the film and would like to see more. The alternate ending, while preferred by Reitman supposedly, is, in my opinion, not as good as the original, but does provide a humorous glimpse into the future of the characters.

The Evolution of Evolution gives us a brief fifteen minute look. This is an HBO First Look piece but overall is fairly good for itís promotional nature. We get some interviews with various cast members including Reitman himself, as well as a very brief look at the making of the film. To provide more detailed information in the making of regard, we get an eleven minute look at the visual effects of the movie. This gives us a look at what it took to create the various CGI creates, from design to finished product.

Rounding out the extras we get a storyboard featurette of six scenes in a picture in picture form. Next we get a basic photo gallery, a look at the cast and filmmakers and production notes. Surprisingly enough we donít get the teaser or the trailer... which is a disappointment as it is probably one of the most standard of extras. All in all though there is a hearty number of extras here for a movie that just about bombed in the theaters.

Overall, Evolution is a fun movie. The cast does a great job in the comedy department, and the movie has a nice pace, great visuals and good action, all within an hour and forty-one minutes. Perhaps this release will allow Evolution to reach a larger audience then those that cared to watch it on the big screen. Some will hate Evolution, some will love it. The choice is up to you. If youíre a fan of any of these actors, or a fan of Reitmanís movies, definitely check this one out. It does what it set out to; be an action comedy reminiscent of Ghostbusters. Definitely recommended.

Oh, and I use Head & Shoulders... and after seeing this movie, perhaps you should too...
Please help support our site by buying this DVD title through this link. Thank you kindly.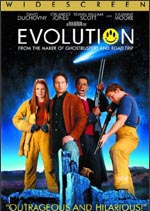 Purchase This DVD
Story / Content



Audio



Video



Extras